Powerscreen makes an impact
By Lindsay Gale18 November 2009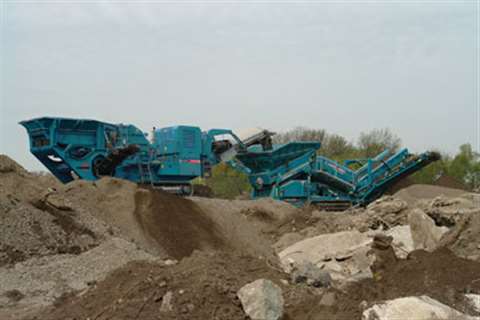 ,
Powerscreen has added two new impact crushers to its product range with the introduction of the Powerscreen Pegson XH320 and XH500,
The XH320 has been designed for the tough conditions experienced in recycling, demolition and quarrying applications. It provides a maximum throughput of 320 tonnes per hour.
The new machine features a direct-drive crusher, double deck grizzly feeder with an underscreen and load management system, reducing material entry direct into the chamber, resulting in increased throughput and reduced wear costs.
In addition, the machine features an under pan feeder, a new impact chamber with 4-bar rotor, twin-apron design, adjustment assist and hydraulic overload protection.
The larger XH 500, with its maximum 500 tonne per hour capacity, is a primary impactor that has been designed for maximum reduction and productivity in quarrying, demolition and recycling applications.
Its key features include a vibrating pan feeder, double-deck live pre-screen, feeder load management system, under pan feeder, direct drive crusher, hydraulic overload protection, hydraulic raise and lower product conveyor for rebar removal and a new PLC control system.
According to Powerscreen, Screen Recirculation (SC) versions of both new units will become available in early 2010 - these will allow users to produce finished end product using a single machine.
Powerscreen global sales director Pat Brian said of the new machines: "The Powerscreen Pegson XH320 and XH500 show clearly how innovation and investment in focused research and development can be leveraged to meet customer demand."