Powerscreen takes Premiertrak to China
By Steve Ducker23 August 2018
United Kingdom-based crushing and screening specialist Powerscreen successfully has exhibited at the Aggregates China exhibition, which took place in Guangzhou from August 18 to 20. With Premiertrak 400X jaw crusher, attendees saw and heard about the cost-saving benefits of using tracked mobile crushing, screening and conveying equipment.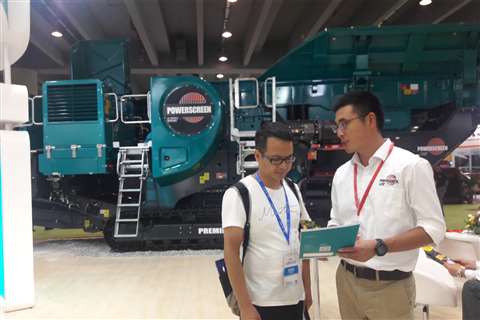 The three-day event saw attendees from across China visit the Powerscreen stand where the team took the opportunity to meet with customers and distributors to discuss ongoing and future projects in aggregates and the burgeoning recycling sector.
In the past 10 years, the aggregates industry in China has been through a huge developmental leap, not least in the adoption of mobile crushing and screening technology. Consumption of aggregates in China and the surrounding regions has grown thanks to several large infrastructure projects in recent years.
"The requirement for aggregate products shows no signs of slowing," said Willie Yin, Powerscreen's business development director in China.
"In fact our research tells us that there will be even more significant future demand as Chinese customers who want to increase production, machine uptime and revenues.
"With a strong research and development focus, Powerscreen constantly innovates its ranges of mobile equipment and our technology engineers have been early adopters of the newest advances."
Powerscreen also recently held several open days in conjunction with dealers across the country, often with round 150 customers in attendance.