Precision Specialized, Edwards, ALE and OXBO take home SC&RA Hauling Job of the Year Awards
The Specialized Carriers & Rigging Association (SC&RA) announced the winners of the Hauling Job of the Year Awards at its 2018 Annual Conference, April 21, at the Boca Raton Resort and Club in Boca Raton, FL. Four SC&RA members – all demonstrating exceptional organization, skill and commitment to safety – were recognized for meeting some of the industry's most complicated challenges and responding with superior professionalism.
Awards were presented to Precision Specialized in the Trucking (Under 160,000 pounds) category; Edwards in the Trucking (160,000 – 500,000 pounds) category; ALE in the Trucking (more than 500,000 pounds) category; and OXBO in the Moving (using specialized equipment) category.
Under 160,000 pounds: Precision Specialized Performs Meticulous Move
In November 2015, Precision Specialized Division received a peculiar question: What was the largest possible load they could transport by road from their plant in Ontario to Linden, NJ. In this case, 16 feet wide by 14 feet high was well beyond usual build size, and the end destination was of concern.
This job involved transporting expensive and fragile high-tech instruments, cased in thousands of pounds of steel, over a precarious route from North America's busiest traffic corridor to one of its most populated – just 20 miles southwest of New York City. Precision's team encountered many challenges: Weight-per-axle restrictions in Ontario, changing construction patterns in the U.S., complicated roadways and tight corners and an extremely difficult delivery site. The project comprised 16 modules ranging from 40 feet by 12 feet by 12 feet on the small end, to the largest at 40 feet by 16 feet by 14 feet. Precision utilized their Aspen 95-ton, 13-axle rear steer perimeter trailer, but also had to custom-make a 13-foot deck.
All 16 modules made the six-day difficult journey to Linden New Jersey. Each module required careful consideration, and thanks to precision planning and execution, the team was able to position the modules exactly where they were needed – successfully.
160,000 – 500,000 pounds: Edwards Embraces a Rigorous Route
In May 2017, Edwards hauled three of the largest-ever fully assembled turbines from Schenectady, NY, to a new combined cycle power plant in the hills of Jessup, PA. From the moment Edwards was awarded the moves, the intricate pre-planning, problem solving and conceptualization of how to move cargo 375,000 pounds, 16.25 feet tall and 16.48 feet wide across a 260-mile route began.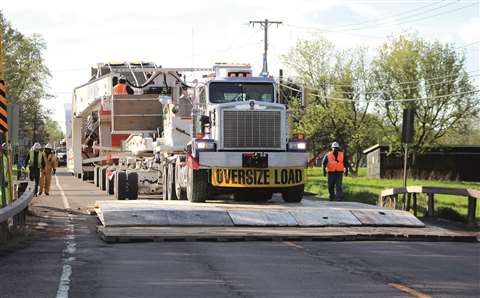 The journey required the cooperation of approximately 20 local jurisdictions, many upper level state DOT personnel in New York and Pennsylvania, several power companies, countless law enforcement officers, private property owners, 12 bucket-truck operators and, finally, three civilian escorts, along with Edwards personal escort vehicles. But after six months of pre-planning, the first turbine was loaded via in-plant overhead crane onto the Edwards dual-lane 32-axle Aspen A500 expandable transporter with three prime movers attached. The final gross weight of the configuration came to 913,227 pounds and measured 345 feet long, 18 feet tall and its widest expansion was 20 feet 2 inches wide.
On May 2, 2017, the load began its 10-day trek – which would involve various structures, steep mountain grades and narrow winding roads. After 2,993-man hours, the turbine was finally on its last five-mile stretch of steep 8-11-percent graded route to the power plant – where it was positioned under the hook-on May 11, 2017.
Over 500,000 pounds: ALE Tackles Arduous Journey
Covering almost 1,000 land and nautical river miles in Venezuela, UK-based ALE was tasked with transporting six 22-MW power plant engines (weighing a combined 1,891 tons) from Puerto Ordaz to the Santa Ines Refinery in Barinas State, Venezuela.
ALE's team began the initial phase in December 2014, following the transatlantic navigation of the six engines from Italy and the trans-shipment to the barge, measuring up to 91 meters long, on the Orinoco River – which could change water levels by up to 40 feet. The second phase started in July 2015 and involved loading the engines at Cabruta quay on the Orinoco – utilizing 24 axle lines of SPMT to load the engines onto one 300-by-100-by-25-meter barge. Three pusher boats with low draft were deployed to help with barging 550 nautical miles along the Orinoco. One notable challenge included passing underneath the Maria Nieves drawbridge serving San Fernando de Apure – which had never been attempted before.
The project finished in January 2017 – consisting of six dual-system generation Wartsila engines that measured 14.258 meters by 5.324 meters by 6.016 meters, and weighed 318 tons each. ALE transported the engines over 500 nautical miles and 200 kilometers – using a combination of SPMTs, power packs, conventional trailers and trucks, barges and low-draft pusher boats, a gantry system composed of two 200-ton strand jack units, HLS2000 and a 500-metric-ton capacity girder frame. ALE estimated that the project required 30,000 man hours.
Moving: OXBO Completes Mating Marvel
In August of 2017, OXBO Mega Transport Solutions performed an incredible scope of work that greatly expedited the building of Seattle's Suquamish (a 144-car / 1,500-passenger vessel) ferry. The hull of the vessel, built in Seattle, measured 322 feet 6 inches long, 82 feet wide and weighed 4,235,000 pounds. The upper superstructure, measuring 280 feet long, 80-feet wide and weighing 3,150,000 pounds, was built 30 miles away in Tacoma, WA. OXBO's job was to safely provide a crew and equipment to move the hull onto a floating dry dock in Seattle, while simultaneously providing a second crew and equipment to load the superstructure onto a barge in Tacoma.
The barge with the superstructure would be transported overnight from Tacoma to Seattle. It would be put in a second dry dock and lifted out of the water. The two dry docks would be tied together and the superstructure rolled and installed onto the hull, mating into one vessel. The superstructure would be set on the hull within 1/32 of an inch; the time allotted was 72 hours to complete all three moves. The full weight of the hull and the super structure of the Suquamish was 7,385,000 pounds.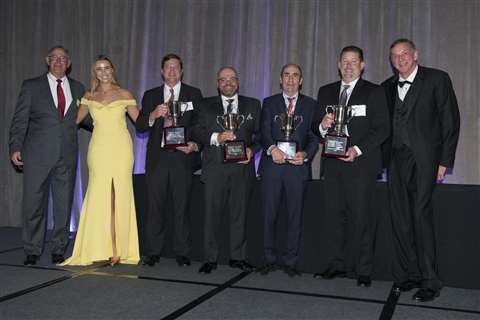 Seven other Hauling Job of the Year entries included:
Trucking 160,000 to 500,000 pounds
Barnhart hauled a pressure vessel from 2,380 miles from Houston, TX, to Fort McKay in Alberta, Canada. The vessel measured 68.3 feet long by 15.3 feet tall by 16 feet wide and weighed 399,000 pounds.
Emmert International transported a demethanizer column 800 miles from a fabrication facility in Northeast Texas to a refinery in Orla, TX. The column had a staggering overall length of 273 feet, a width of 18 feet, a height of 18 feet 3 inches and weighed in at 271,000 pounds net cargo weight.
Global Specialized Services transported a demethanizer tower from Pocatello, ID, to Minco, OK, using a Trail King 6-axle steerable dolly and a XL Specialized 3-axle jeep. The vessel measured 162 feet 10 inches long by 10 feet 6 inches wide and weighed 180,000 pounds.
OXBO Mega Transport Solutions responded to a tragic situation after a passenger train derailed near Dupont, WA. To assist in clearing the scene littered with several wrecked train cars, OXBO transported the 270,000-pound locomotive that jumped the tracks and landed on Interstate 5, closing all three southbound lanes of the freeway.
Trucking Over 500,000 Pounds
Barnhart hauled 80 pieces ranging, from 3 metric tons to 290 metric tons, from the Port of Long Beach to Weber Metals in Long Beach, CA, to assemble one of the world's largest forging presses. The components were hauled on a 15-mile route using Barnhart's GS-800 Carrying System.
Fagioli, in a confusing situation due to inadequate infrastructure and a lot of governmental red tape, executed a challenging heavy transport with loads exceeding 300 metric tons from the Turbigo to Cremona River Ports in Italy. The 140-kilometer haul was executed in eight nights (for each transport).
Moving
Emmert International moved a product purge bin and more than 8,000 freight tons of associated accessory cargos from Port of Point Comfort, TX, to a plastics plant five miles away. The vessel had a transport length of 149 feet, width of 31 feet 1 inch and a height of 35 feet 1 inch – and weighed 906,164 pounds.