Preview of the 2009 SC&RA Specialized Transportation Symposium
By Alex Dahm09 March 2009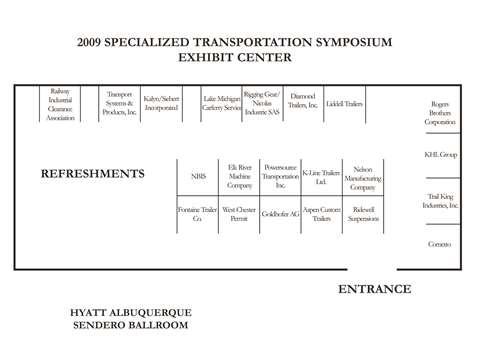 The Specialized Transportation Symposium is a major annual event to help all interested parties meet challenges in the industry. This year it runs from 11 to 13 March at the Hyatt Regency Albuquerque, New Mexico in the US. Terry White previews the event.
For more than 20 years SC&RA has conducted a major annual meeting that offers specialized carriers, state and federal government officials, researchers, manufacturers and suppliers a unique opportunity to share ideas on meeting the challenges facing the industry. That tradition will continue at the 2009 Specialized Transportation Symposium, 11 to 13 March, at the Hyatt Regency Albuquerque, Albuquerque, New Mexico.
"The very significant issues the industry will encounter throughout this year make it even more important for everyone involved in the industry to work together at the Symposium," said Joel Dandrea, SC&RA executive vice president. "Of particular concern is the 2009 surface transportation bill to be addressed by Congress. The US must get this right because it will affect everyone profoundly until at least 2016, when the following transportation bill is considered."
Addressing the 2009 surface transportation bill during a highlighted session at the Symposium will be Greg Cohen, president of the American Highway Users Alliance (AHUA). Members of AHUA include a diverse range of businesses and non-profit associations that rely on safe and efficient roads to transport their families, employees, customers, and products. The organization has established itself as a leader in efforts to work with Congress and the Executive Branch "to devise a ground-breaking new highway bill in 2009 that reforms and strengthens our national investment in surface transportation."
Dandrea noted that the knowledge attendees gain by attending such sessions often enables them to make informed decisions, resulting in more profitable, safer operations.
In addition to covering federal issues, the Symposium will again feature a candid appraisal by state transportation officials concerning over dimensional transport's critical issues, particularly efforts to advance uniformity in the permitting process for oversize and or overweight loads. This year's panellists, all from the US, will be Richard Clasby, Utah; Tommy Thames, Mississippi; and Michelle Teel, Missouri.
"Uniformity leads to efficiency, which in turn leads to a positive economic impact for our members, the agencies regulating them and all other industries that rely on the specialized services provided by our members," said Doug Ball, SC&RA vice president-transportation. "Times are tough and that makes it even more important that we all work together to determine actions that keep our members moving forward."
Among other important issues to be addressed in sessions are infrastructure constraints versus cargo movement demands, environmental challenges and opportunities, practices that simultaneously enhance safety and profitability, and the use of proper contracts to provide protection in routine business transactions.
Tempering the serious nature of the issues, featured speaker James Lloyd will magically engage attendees with a unique blend of timely humour, insightful knowledge, contagious enthusiasm and personal sharing. The motivational speaker, who has captivated and inspired audiences on five continents for 25 years, will examine the three burning questions that everyone asks themselves at life's end. He will explain why the secret to happiness and productivity is to begin answering them now.
Still another highlight will be the Exhibit Center, which will be open on two days. While giving attendees the opportunity to learn more about the products and services of 21 leading companies that specialize in the industry, this event helps those exhibitors better understand the changing needs of their customers.
The Exhibit Center, practical sessions on issues such as safety and energy efficiency, and numerous opportunities to network with their colleagues during receptions and breaks make the Specialized Transportation Symposium attractive for SC&RA members worldwide, according to Doug Ball.
"We keep hearing of alliances and partnerships being formed by our members in different countries as a result of their participation at the Symposiums," he said. "That benefit has become increasingly important in today's global economy."
Many attendees will be arriving early, on 10 March, for meetings of the Pilot Car Task Force and of regional associations of state highway and transportation officials. Before the symposium's opening session on 11 March, the regional associations of state officials will reconvene while SC&RA holds special sessions of its Truck Permit Policy Committee and Transportation Group Safety Committee.
Visit www.scranet.org and click on the Events tab at the top of the page to review the official programme, which includes registration forms for the event, hotel rooms and exhibits. Information also is available by calling SC&RA at +1 (703) 698 0291.