Prolift Access adds 28 Youngman scissors to fleet
By Lindsey Anderson15 October 2012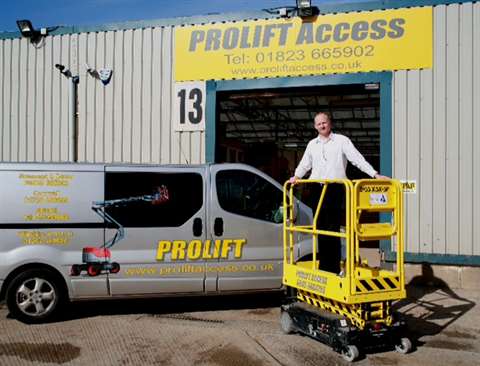 Prolift Access, based in Somerset, UK has added 25 Youngman BoSS X3X push-around scissor lifts and three X3X-SP self-propelled models to its fleet.
They will meet "strong demand for ultra compact machines able to tackle a variety of low level tasks," said the company.
"We had trials of a few different makes of small scissor lift which showed us that, in our opinion, Youngman offered the best combination of performance, lightness, ease of maintenance and parts interchangeability," said director Andy Pearson, Prolift's managing director.
Prolift Access was established three years ago and currently has a fleet of 262 machines with working heights up to 18 metres. The company has two locations in Southwest England.
Prolift said the Youngman fleet has proved popular with heating and ventilation specialists, electric contractors and other professions which need lightweight aerial work platform units.
The top-of-the-range X3X-SP model weighs 495 kg and has a maximum working height and safe working load of 5.14 m and 150 kg respectively. The units have an overall width of 0.76 m, and can pass through a standard doorway.