Quarry show: Hillhead, UK
By Joe Malone15 June 2016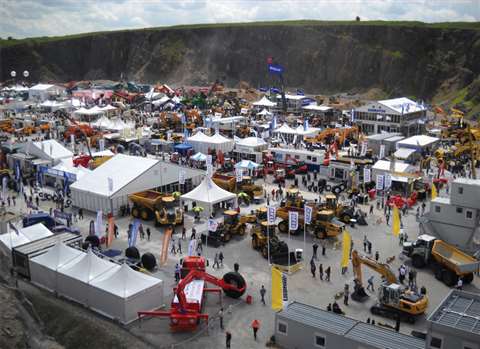 Every two years, the Hillhead show is held at Tarmac's Harpur Hill quarry near Buxton, UK, providing a chance to see equipment in a natural setting.
Taking place from 28 to 30 June, 2016, the show will have a new outdoor area at the southern end of the site and an extended registration pavilion – 2,000m2 of additional exhibitor space has been added since the last show.
Two years on from the last show, and the organisers have promised more live demonstrations than before in four dedicated areas – the quarry face, the rock processing area, the recycling area and the registration area.
Sandvik will be out in force at the Hillhead show this year, and it said the show would provide "the perfect opportunity" to demonstrate how it aims to meet the needs of its customers.
Sandvik will be showcasing a number of products from its mobile crushing and screening range, customer services tools as well as other equipment and services.
From its mobile crushing and screening range, the company will present its QJ341 jaw crusher, with a new pre-screen, which can be seen at the show for the first time.
Also in this range, Sandvik will be showing its QH331 hydrocone with a hanging screen, QI441 Prisec impactor, QJ241 compact jaw crusher, QE241 versatile scalper with a configuration of two conveyors on the side, QE441 heavy duty scalper – which the company said was ideal for quarrying and aggregates – and its QA441 Doublescreen.
In the company's customer services tools, consumables, wear parts and solutions range, it will showcase its Optiagg mantle, Sandlock lifting device demonstration and its Parts Evolution including live demonstrations on the stand, among others.
In its other equipment and services, Sandvik will present its Bretec breakers – the C2, M5/M7, M15 and L20C.
Full range on show
UK-based JCB will show a full range of its tailormade machines for the quarrying, construction and recycling industries across two stands – including a Hillhead debut for its recently launched JCB Hydradig 110W.
The JCB Hydradig is described as a tool-carrying solution, bringing innovation and engineering excellence to the growing compact wheeled machine sector of the market.
The company said the machine delivered on five important customer criteria, offering unparalleled visibility, stability, manoeuvrability, mobility and serviceability.
It said the new concept brought new levels of digging, lifting, loading and tool-carrying performance to urban construction, highway maintenance and municipal operations.
Hydradig features a sturdy all-wheel drive, four-wheel steer chassis, which the company said was based on its proven Loadall telescopic handler concept. It said this delivered three-mode steering for maximum manoeuvrability and stability when travelling at speed.
Hydradig is powered by its own Ecomax Stage IIIB/Tier 4 Interim diesel engine, delivering 81kW and industry-leading levels of low rpm torque, it claimed. The engine achieves the Tier 4 Interim emission levels without an expensive Diesel Particulate Filter (DPF), reducing cost and complexity for the customer, it said.
Liebherr will be presenting a number of its earthmoving machines and concrete technology products at Hillhead.
Among the earthmoving products, the new generation of XPower large wheeled loaders will be available to see – the L 566. The company said the Stage IV/Tier 4 Final-compliant machine offered fuel savings of up to 30%, with up to 20% more breakout force.
Liebherr will show its new PR 726 crawler tractor, which weighs in at between 16 and 19.8 tonnes and, according to the company, provides the operator with outstanding all-round visibility.
New generation products
Another company that will present new launches is Doosan Bobcat. It will show a wide range of new generation products from the company's Doosan Heavy, Doosan Portable Power and Bobcat ranges for the first time at Hillhead.
This includes the first showing of the DX530LC-5 52 tonne Stage IV-compliant excavator, where the company said the phenomenal stability and very wide digging platform were combined with best in class lifting capacities over both the front and side. The lifting capacity over the side is said to have been increased by 12%.
Doosan will also show the new DX255LC-5 25 tonne crawler excavator for the first time at Hillhead. While overall dimensions are very similar to the previous DX255LC-3 model, the company said the DX255LC-5 Stage IV excavator combined greater power with a 500kg increase in operating weight, resulting in increases of up to 17% in lifting capacities over both the front and side and a 1dBA reduction in sound levels.
The company's portable power arm will showcase its new 12/254 portable compressor for the first time, along with its 7/41G Tough Top generator-compressor and the Stage IIIA compliant G100-IIIA generator.
Doosan's sister company Bobcat will display its range of micro- and mini-excavators, skid-steer loaders, compact tracked loaders and attachments, including the T450 and T590 compact tracked loaders and the E10 and E26 excavators.
Hitachi, meanwhile, will present its recently launched 50-tonne ZX490-6 excavator at Hillhead. The company said the excavator features the latest Tier 4 Final engine and an increased hydraulic pump capacity compared with its predecessor – the ZX470-5. Other Hitachi equipment on show will include the ZX870-5 excavator, and the ZW370-5 and ZW310-6 wheeled loaders.
Portable compressors
Atlas Copco will be presenting a range of its products, from its new Series 8 range of portable compressors to its latest Dynapac CityPaver.
The company's new Series 8 compressor weighs in at under 750kg across the range, while the company said it set new standards in almost every category, from size and weight to efficiency and performance. The company added that it also featured the latest iteration of the polyethylene HardHat canopy, which is said to be lighter and more durable than traditional metal canopies.
Meanwhile, the company's new Dynapac SD1800 CityPaver combines a tight turning circle with the popular features of its SD2500 big brother making it ideal for repairs in narrow streets and tight working areas, the company said.
Other new ranges on show from Atlas Copco include HiLight towers which it said used LEDs to reduce energy consumption without compromising light coverage. Also, the company will showcase its latest handheld pneumatic RTEX breakers. Atlas Copco said they offered significant reductions in energy consumption and weighed 25% less than their equivalents, without compromising performance.
Hyundai Heavy Industries Europe (HHIE) will present its latest HX range of excavators and HL range of wheeled loaders. The company will also run a demonstration of its 52-tonne HX520L crawler excavator and 31-tonne HL980 wheeled loader.
Showcasing range
Terex will be represented at Hillhead by Terex Washing Systems (TWS) and Terex Finlay, which will both be showcasing their ranges.
TWS will launch a number of new product lines which the company said would serve an increasingly diverse range of materials handling sectors.
First in the new product line-up is the Modular Scalping Unit. TWS said that this modular chassis-mounted scalping unit brought operators a well proven, cost-effective and durable machine in a modular all-electric format. It said it was ideal for C&D recycling applications as well as quarry and mine overburdens and added that it integrated seamlessly with other key TWS systems including AggreSand and AggreScrub.
Terex Finlay will have three new products at Hillhead. These include the C-1540 direct drive cone crusher, the 674 three-deck inclined screen, and the new I-140RS impact crusher, which will officially launch in the third quarter of 2016.
Volvo, will showcase its latest excavators, wheeled loaders, ADTs and paving equipment, along with representative models from the company's compact excavator range.
The stand will also feature representative models from Volvo Trucks, including the FH16 and two models from the FMX range. Volvo Penta will also present its latest industrial engines and applications.
Gold Excavator
Another company will be celebrating its personal success at the show, as Kubota sold its 50,000th excavator this year. Its special edition 50K Gold Digger will be on show – a gold painted Kubota KX-71 mini excavator.
The machine will be placed on stand W3 next to an original Kubota KH10, the very first mini excavator sold in the UK and Irish market, which was launched by the company back in 1979.
Kubota will also be showcasing a host of new machines that are making their debut UK appearance at the show. These include high-spec versions of two of its mini excavators, the Kubota KX101-3 and the Kubota U27-4.
Alongside the excavators, the latest developments in Kubota's tracked carrier and wheeled loader ranges will be on display, including a UK premiere for the KC250H-4 three-way tipping body, and the latest specification of the R065. Hillhead 2016 will also see the launch of Kubota's new partnership with Trakm8, which the company said will provide leading telematics solutions for Kubota machines.
Meanwhile, Terex Trucks will show its new generation of articulated dump trucks, including the TA400 and TA300.
Terex Trucks said the 38 tonne capacity TA400 was more than capable of overcoming the most demanding of conditions for improved performance, while the EU Stage IV-compliant engine meant customers benefited from lower emissions, increased fuel efficiency and lower operating costs.
Full articulation
The latest and largest addition to Bell Equipment's E-Series articulated dump trucks will be on show – the 59 tonne payload B60E. This 4X4 machine boasts full articulation steering and oscillation joint.
Alongside the B60E, Bell will also be showcasing its B25E, B30E, B40E and B50E. Several wheeled loaders will also be on the stand, according to the company.
The Case stand will feature a wide range of earthmovers, with 19 different models including the new D series Tier 4 Final-compliant heavy excavator range.
On the compact side, four compact and mid-sized crawler excavators will be on show, ranging from 2.7 tonnes to 8.7 tonnes in weight – the CX26B, CX50B, CX75C and CX80C.
The BW 213 DH from Bomag's new Dash-5 range of single drum rollers will be on show. Powered by a 115kW Deutz 4.1 L4 engine, the BW 213 DH uses Ecomode automatic engine management to reduce fuel consumption by up to 30%, according to the company, which said the optional Ecostop system reduced fuel consumption further.
Rockster and its UK dealer International Crusher Solutions (ICS) will presents its Rockster impact crusher R900.
The company said the mobile track-mounted R900 was equipped with a generous entry opening of 900mm x 720mm and a heavy duty, four-hammer hard aggregate rotor, making operations possible not only in standard recycling applications, but also in areas involving hard or abrasive aggregates.
It said the hydrostatic drive system replaced the industry normal clutch system, and allowed continuous adjustment of the rotor speed, responding to various operating
conditions.
Hillhead at a glance
Tuesday 28 to Thursday 30 June, 2016. Opening hours, Tuesday and Wednesday 09.00 to 18.00; Thursday 09.00 to 17.30.
The address is Hillhead Quarry, Buxton, Derbyshire, SK17 9PS, UK (SatNav SK17 9PR).