Rapid ups fleet with 334 Genies
Middle East-based Rapid Access has taken delivery of the first units in an order for 334 Genie boom and scissor lifts. Recently acquired by Loxam as part of the Lavendon Group, Rapid Access has a fleet of more than 4000 units in the Middle East.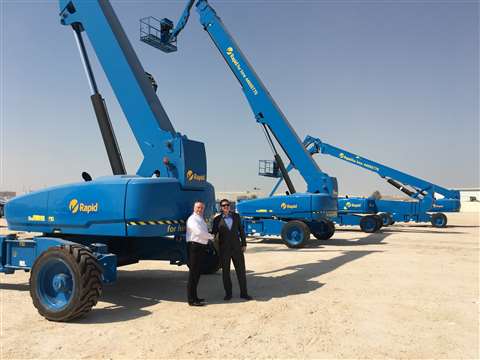 Gary Cooke, regional sales manager, Middle East & Southern Africa Terex Equipment Middle East (left); with Michael Maynard, regional director for Rapid Access in Qatar, Kuwait & Oman.
The order includes a mix of telescopic Genie SX-180, Genie SX-150 and articulating Genie ZX-135/70 boom lifts, as well as Genie Xtra Capacity (XC) telescopic SX-135 XC and SX-125 XC models. They offer working heights from 40.1m (131 ft) up to 56.86m (186 ft) and horizontal reaches from 21.26m (69 ft 9 in) to 24.38m (80 ft).
The boom lifts are firsts for the Qatar and Kuwait markets where they will support the construction of multiple infrastructure projects. A new airport, a metro network, oil & gas plants and seven new FIFA World Cup stadiums count among the projects scheduled to be completed in the next five years.
James Davis, country manager for Rapid Access in Qatar explained, "Given the quantity of hotels and malls that already exist, plus the large number of other projects such as stadiums that are currently being built, we are expecting rental demand for high level boom lifts in the construction and facilities management sector to be strong."
The Genie Xtra Capacity (XC) models included in the order are adapted to to lift heavier loads from 300kg (660 lb) up to 454kg (1000 lb) in the restricted zone. These models also boast zero-load field calibration. "By continuously checking the weight in the platform, this new feature makes sure the machine stays within the platform load limit and helps to increase overall productivity, improve set-up time as well as significantly reducing travel time and overall costs due to operator faults," said Mr Davis.