RBAI completes Danish bridge early
By Leila Steed02 October 2019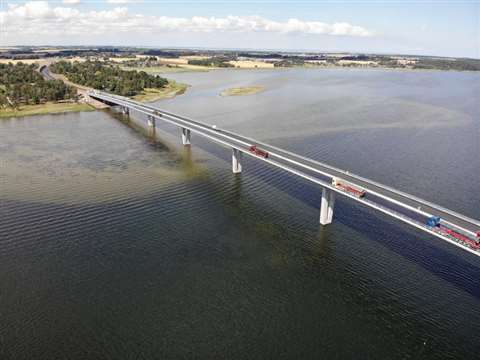 Construction on the Crown Princess Mary's Bridge in Denmark has been completed three months ahead of schedule, thanks to the implementation of the LEAN method.
The RBAI – a joint venture between construction company Besix, Rizzani de Eccher and Spanish services operator Acciona Infrastructuras – employed the working method, which required communications based on mutual trust and transparency and close and ongoing dialogue.
Nic De Roeck, area manager Europe, Besix International, said, "The achievement of this complex project before the contractual milestone and in such high quality would not have been possible without the open and constructive cooperation we enjoyed with the Danish Road Directorate and all the other national and international parties involved."
Running over the Roskilde Fjord, the bridge was part of the €133 million Fjord Link project, which comprised the building of 8.2km of highway and 11 smaller civil engineering works, including tunnels, bridges, wildlife crossings and a 3km acoustic barrier and 1km retaining wall.
Built within a Natura 2000 zone, the construction was subject to strict environmental restrictions and took just 36 months to build.
According to Besix, execution methods also played a role in delivering the project ahead of schedule. The company said a project specific launching gantry helped to increase efficiency when it came to installing the bridge's deck, as the horizontal crane allowed the deck segments to be fitted one by one.
The project was undertaken to alleviate traffic congestion and to provide an alternative crossing over the fjord, which had previously had only a single bascule bridge crossing it.
Opened by her Royal Highness Crown Princess Mary of Denmark, for whom it was named, the Crown Princess Mary's Bridge is said to be the first cantilevered bridge to be built in Denmark since 1970.