Reaching further
By Euan Youdale06 December 2016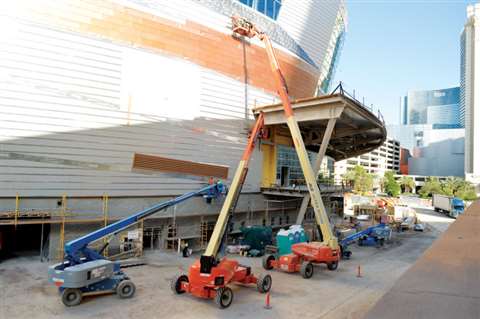 Telescopic booms may not go higher than the mighty 180ft-185ft superbooms launched in recent years any time soon, but they are reaching further with greater capacity and growing their global presence. Euan Youdale reports.
The telescopic boom is historically strong in North America. According to Haulotte around 70% of global usage takes place in the continent. Emerging markets like the Middle East are eager buyers of this product type too where there is plenty of work in big industrial applications like the oil industry, requiring great working heights.
There are also development signs in Asia. "The market is growing moderately but steadily in Asia, and especially in China where we can see more local manufacturers offering a wide product range of telescopic booms," said a Haulotte spokesperson.
New to booms
MEC Aerial Work Platforms, based in the US, is in its second year of booms production and launched its 60J Boom series in 2015 with both diesel and electric models available, as well as a Hybrid option.
The Electric RT boom is designed for no compromise in performance for job sites that require less noise and air pollution. While the Hybrid option evolved from the growing need for this type of equipment.
"The diesel model needed to be differentiated in the market so we addressed the need for larger working space and easier workability and greater safety with no foot pedal, with the largest platform in its class," said Jim Tolle, MEC's international sales manager.
Although Mr Tolle points out, "[Hybrid] seems to be a slow mover in our industry until regulations prompt a more drastic shift." He also does not see a move to 190ft working heights and above for telescopic booms any time soon. "The market opportunity in that range is very specialised. Until the market opportunity increases, the return on research and design investment will be too low to make it a priority."
It's not just manufacturers with a major interest in the North American market that are producing telescopic booms. Italy-based Airo introduced its first telescopic boom at Bauma this year.
The T34 JRTD has 34m working height and a 24m outreach with 450kg capacity in the basket. It also offers extending axles and four wheel steer, with jib. Joining the T34 JRTD is sister product T32 RTD, which offers all the same functions except the jib.
The Italian company says the pair will be aimed at the Chinese market, notably shipyards, through Airo Beijing, the manufacturer's sister company in China. According to Airo, shipyards in the country are providing sales for booms and will help make up for the slow
On the subject of China, Dingli has confirmed it will launch new booms from its partnership with Italian telehandler specialist Magni at Bauma China, taking place in November this year. Among the 16 new products on display will be the eight new boom lifts designed and built at the new Dingli Europe R&D Centre in Italy. It follows Dingli's acquisition of 20% of Magni, with the new facility based at its factory.
Of the eight, four will be telescopic booms with 16m, 20m, 24m and 28m working heights, while the other four are articulating with the same working height range.
All models offer four-wheel drive and steering and are built with the view of selling them widely in Europe with its Revolutionary Concept, designed to concentrate on weight, performance, efficiency and service.
Sinoboom launched the GTBZ16/18J diesel powered telescopic boom lift, launched in Jan 2016, with the GTZZ16/18EJ electric articulated boom lift, launched in the same year.
The GTBZ16/18J offers overload and overrange alarm, tilt alarm, and other fault indication and alarms, like water temperature and oil pressure. In China, "Diverse market demand is forming, especially under 20m. Sinoboom's new models are designed to meet the market demand," said a company spokesperson.
Sinoboom has its sights on the international market and is hoping to partner and cooperate with 'well-known' organisations in the next five to 10 years to improve manufacturing quality and service options. The company says technology through computer generated designs and 'virtual prototypes' are improving product development, while the Internet of Things will play a major contribution to the industry. "Fatigue stress analysis will be important in AWP research and design."
Sinoboom is also uncertain that booms of over 190ft or higher will be seen in China."It doesn't have a good rate of return on investment, though some large rentals may still show interest only to establish themselves as the leading player in the AWP business." Furthermore, high-rise buildings over 60m in China are always equipped with window cleaning machines or suspended platforms.