ReachMaster receives BlueLift dealer award
By Euan Youdale27 September 2019
ReachMaster has been awarded 2019 Dealer of the Year by Bluelift/Ruthmann Italia.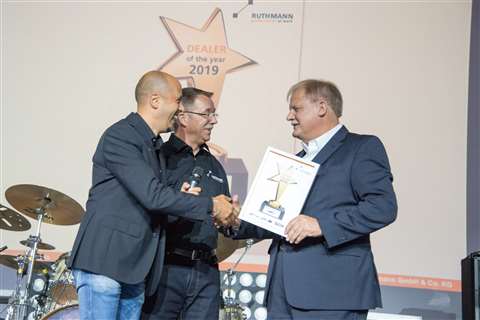 Presenting the award on 5 September, 2019, from left: Gianni Marti, managing director Bluelift/Ruthmann Italia; Rolf Kulawik, managing director Ruthmann; with Ebbe Christensen, president, ReachMaster.
ReachMaster has been the exclusive distributor of Bluelift's compact track-based lifts in North America since 2010, with models from 39ft – 101ft working height.
Gianpiero Marti, international sales manager from Bluelift explained, "When we started working with ReachMaster in 2010 we were a relatively new and small player in this segment, and ReachMaster was one of the first major distributors we appointed. Since then we have expanded and grown our activities together to a point where the North American market has become one of our key markets, and we are pleased to see ReachMaster receive this token of appreciation and congratulates them for all their efforts in the market with their partners and dealers
Mart added, "With the opening of our new and third production building - and thereby getting significant larger production capacity - we look forward to continue expanding our sales and presences in the North American markets."
All Bluelifts above 53ft can be supplied with a combination of a gas/diesel engine and Lithium battery pack. Ebbe Christensen, president and owner of ReachMaster, said, "The so-called Combo configuration with true dual power options that we initially launched on the Bluelift B72 several years back proved to be truly a new benchmark for the category. Combined with the ultra-compact format, the concept has really spearheaded the Bluelift sale in North America to a point where 90% of all models sold today are delivered in this configuration"
Last year, Bluelift and ReachMaster was also the first provider in the market of an anti-entrapment system for the category. This year their new Bluelift B35-EB concept of a 35ft work height lift with a patent-pending elevator system that will allow operators to work safely below level over balconies and handrails entered the market.
Christensen concluded, "There's a lot of quality competition in this segment in North America, but Bluelift has proven time and again to lead the segment in product innovation, listening to the market feed-back that we provide, - that is very rewarding for us as a distributor" says Ebbe Christensen and concludes "We are obviously both honored and excited to receive the "2019 Dealer of the Year" award as a testimonial to all the great efforts extended by our entire team, partners and dealers in the US and Canada"