Reclaiming the past
By Lindsay Gale01 May 2008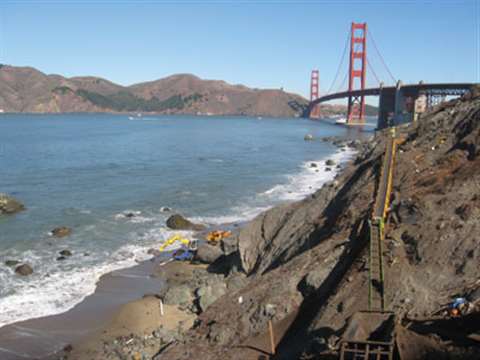 Allu screen/crusher attachments have been used by US contractor AIS Construction, fitted on Kaiser S-2 walking excavators, to carry out a tricky site remediation job in the shadow of the Golden Gate Bridge in California, USA.
For almost 40 years up until the 1960s, the US Army Corp of Engineers disposed of building rubble and other waste by the simple expedient of dumping it on and over the cliffs at the south side of the Golden Gate above north Baker Beach. Times have moved on, and today's environmental concerns have dictated that the site be cleaned up.
The task facing AIS was far from simple. Among the challenges it faces is the excavation of class 1 hazardous material from the cliff face and its transport, using a conveyor system, up 40° slopes over a distance of 1,200 ft (365 m).
By using the Kaiser machine/Allu attachment combination, AIS was able to pre-classify material at the point of excavation prior to transport. This meant that unnecessary removal of native uncontaminated rock was eliminated. In addition, AIS was able to boost the efficiency of the conveyor system since oversize material was screened and crushed, allowing the conveyor to carry more consistent loads.
Once site remediation work is finished, recreational trails will be constructed, historical military fortifications will be restored and natural area restoration, under volunteer stewardship, will begin as a part of the Golden Gate National Parks Conservancy 'Trails Forever' initiative, launched in 2003.