Record-breaking transport by BYN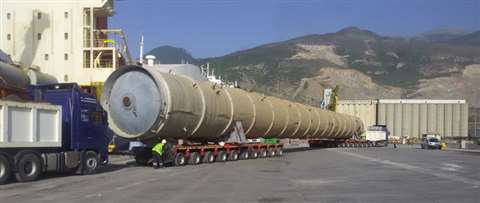 Turkish heavy haulage specialist Botros-Yigit-Nata (BYN) transported a 247 tonne refinery boiler from Iskenderun to a refinery in Erbil, Iraq.
The boiler was shipped from Jebel Ali, United Arab Emirates to the Turkish port of Iskenderun. On arrival at the port, BYN loaded the boiler onto two Goldhofer 10-axle THP/SL heavy-duty modules and transported it 1,150 km by road to Erbil.
The boiler was 62 metres long and 3.5 m in diameter. The total length of the transport vehicle was almost 70 m and had a load height of 5.25 m. It was the largest transport to be made to Iraq via Turkey in a single operation, a company spokesperson said. It took 20 days.
Aydin Fatah, BYN general manager, said, "Everything went smoothly. We spent six months planning the project and performing a detailed inspection of the roads down to the very last bend. Once we had the permits for the journey, it was simply a question of the reliability of our Goldhofer modules. And they did not let us down once."
Stefan Fuchs, Goldhofer CEO, said, "It's gratifying to see customers place their trust in our technology for the really challenging missions and break new ground in the process. We provide the ideal basis for handling landmark projects."