Record first quarter for Wacker Neuson
By Euan Youdale08 May 2018
The Wacker Neuson Group has made a strong start to the year with revenue for the first quarter increasing more than 9% to €371 million. The figure represents a first quarter record for the company.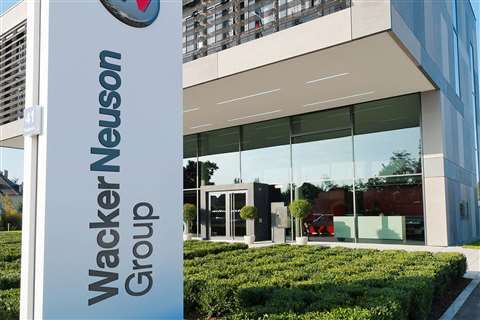 All regions and business segments reported a rise in revenue. The growth was primarily driven by rising demand in European and North American construction markets, as well as a strong performance from the Weidemann and Kramer brands in the agricultural sector.
When adjusted for currency effects, revenue increased at a faster pace of 14%, compared to the same quarter last year. However, the US dollar's weak performance against the Euro impacted revenue by €16 million. The strained situation among some suppliers has also proved a challenge, with bottlenecks delaying deliveries.
Europe is the largest market for the Group, accounting for 72% of its business. Revenue for the region rose 8% to €268 million. Revenue for the Americas grew at an even faster pace, increasing 13% to €92 million. Adjusted for currency effects, this corresponds to a rise of 29%. "In the US, we benefited from a number of trends including increased investments from rental chains stocking up on worksite technology such as generators and heaters. Our performance was also bolstered by strong sales of our US-produced skid steer loaders," said Martin Lehner, CEO of Wacker Neuson SE.
Revenue for the Asia Pacific region rose 16% to €11 million. Adjusted for currency, revenue rose 26%. Growth was particularly strong in China, said the group, where it started series production of mini excavators in January 2018.
At the end of March 2018, Wacker Neuson secured its financing for the medium term. "We successfully placed a promissory note in the amount of US$ 100 million in the US and agreed on medium-term credit lines totaling €75 million with three banks. This provides us with the funds we need to finance our growth strategy," explained Wilfried Trepels, CFO.
For the full year 2018, the company forecasts revenue to rise by 8% - 11% to between €1.65 and €1.70 billion. The target for EBIT margin remains at 9% - 10%.