Record revenue for Palfinger
Palfinger has continued its growth in the first quarter of 2018.
Revenue rose by 8.9% to €394.2 million, compared to the same quarter in its 2017 financial year, representing a record for the company. Operating profits were satisfactory too, with EBITDA increasing 6.2% to €54.0 million.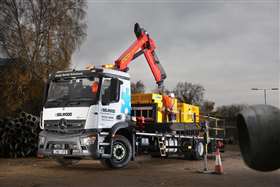 "The development of operating profitability shows us that we are on the right track to achieve and sustain our goals. From today's perspective, not least due to our full order books, the financial year 2018 may well be another record year in terms of revenue and operating profitability," commented a company spokesman.
By division, the Land segment revenue increased by 13.6% year-on-year to €337.8 million. The segment's normalized EBITDA grew to €58.4 million, an increase of 13%. The EBITDAn margin of the segment decreased marginally from 17.4% to 17.3% in the first quarter of 2018.
The growth achieved in the Land segment was based on the significant expansion of business in the EMEA and Americas regions, said the company. In Europe, the acquisition of the Danish distribution partner Palfinger Danmark at the end of January 2017, generated positive momentum. In North America, Palfinger recorded increases and in Asia, particularly China, the partnership with Sany has resulted in continued expansion. In Russia/CIS there was growth, despite the challenging economic environment.
In the first quarter of 2018, the SEA segment's revenue decreased to €56.4 million, a decline of 12.7%. The contribution of the segment to Palfinger's consolidated revenue therefore shrank from 17.9% to 14.3%. The segment's normalized EBITDA (EBITDAn) decreased from €2.1 million to €0.9 million and the EBITDAn margin came to 1.6%, compared to 3.3% in the first quarter of 2017.
Business for the segment remained extremely challenging as a result of the strained situation in the oil and gas industry. There are signs of a slight stabilization of the market situation, said the company, but no substantial recovery is expected any time soon.