Record revenue for Wacker Neuson
Germany-based compact equipment manufacturer Wacker Neuson saw revenue rise 11.3% to a record level of more than €1,700 million (US$1,930 million) in 2018 – and said it could have been more but for supply chain "bottlenecks".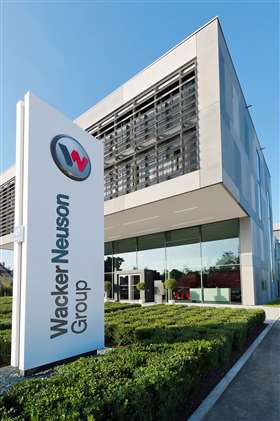 The group's financial results showed business growing across all regions and business segments, as it benefitted from the expanding global construction industry, strong demand in its core markets of Europe and North America and increased sales in Asia.
Streamlined cost structures and economies of scale also helped boost profitability.
"We achieved our revenue and earnings forecast despite having to contend with bottlenecks in our global supply chain," said CEO Martin Lehner.
"This did mean, however, that we were not always able to fully meet the strong demand for our equipment and machines."
Europe accounted for almost three-quarters of all revenue and grew 10.5% year on year, with Germany the largest single market.
Revenue for the Americas rose 11.3% to €397.8 million ($451.3 million) helped by strong demand in the North American rental industry.
Asia-Pacific rose 28.3% to €59.8 million ($67.8 million).
China and Australia were the key growth drivers with manufacturing of mini excavators getting underway at the new Pinghu plant in January and other equipment following during the year.
Profit before interest and tax (EBIT) grew even faster than revenue. It was up 21.5% to €159.7 million ($181.1 million) and the EBIT margin increased to 9.4% from 8.6% in 2017.
The group said profit was compromised by increased material prices and bottlenecks in the global supply chain, which had a negative impact on production processes at manufacturing sites.
Exports from Europe were also reported to be squeezed by the weak US dollar in the first half of 2018.