Record value for GB construction output
By Thomas Allen09 November 2018
The construction industry's output has continued to grow in Great Britain, according to the Office for National Statistics' (ONS) figures for September 2018.
Output reportedly increased by 2.1% in the third quarter of the year, continuing its recovery from the first quarter, when output dropped by 1.6%. The second quarter then saw a rise of 0.8%.
The third quarter rise was said to have been driven both by new work, which increased by 2.8% over the three months to September, and by repair and maintenance, which grew by 1%.
It is worth noting that all new work accounts for approximately two-thirds of all work, while repair and maintenance accounts for the remaining third.
Between August and September, output rose by 1.7%, driven by a 2.8% increase in all new work – although, this was partly offset by a 0.3% drop in repair and maintenance.
In value terms, the level of the all work series for September reached £13.995 billion (€16.09 billion) – a record high since the monthly records began in January 2010.
In the third quarter of 2018, construction output increased by £872 million (€1 billion), compared with the second quarter. The most notable contribution to growth came from private housing new work, which increased by £507 million (€582.9 million) between the second and third quarters.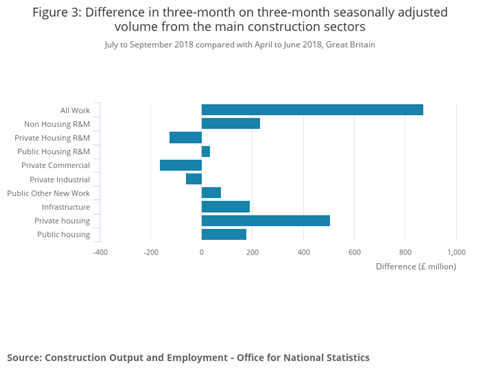 In addition, other notable growth came from non-housing repair, up by £230 million (€264.4 million), and maintenance and infrastructure, up by £191 million (€219.6 million).
In contrast, downward pressure came from private commercial new work, which dropped by £162 million (€186.2 million), private housing repair and maintenance, with a fall of £124 million (€142.5 million), and private industrial new work, which decreased by £60 million (€69 million).
In terms of the difference in month-on-month growth from the various construction sectors, the most notable increases came from infrastructure, with an increase of £125 million (€143.7 million), and public housing new work, which rose by £81 million (€93.1 million) in September. These increases more than offset the notable decreases in private housing repair and maintenance, down £45 million (€51.7 million), and private industrial new work, which fell by £23 million (€26.4 million).
View from McBains
Clive Docwra, managing director of McBains, said, "Today's figures are encouraging and show that the industry is building some momentum."
However, he flagged up the fact that key investment decisions were being hindered by concerns surrounding Brexit and the high cost of imported materials.
Docwra added, "Recruitment is also a growing issue, with wages of scarce skilled tradespeople continuing to rise and the future status of EU-workers in the UK still unclear beyond March 2019."