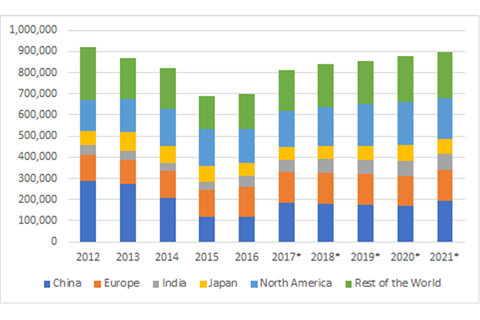 Global unit sales of construction equipment
Global construction equipment sales are expected to increase by 16% this year, according to updated forecasts from specialist consultant Off-Highway Research. Worldwide sales are expected to exceed 810,000 units, with a value of more than US$80 billion.
Most major regional equipment markets are expected to see growth this year, but the key driver will be China. Crawler excavator sales have more than doubled in the first half of
2017, compared to the same period last year. Among other impacts, this is likely to mean that for the first time more excavators than wheeled loaders will be sold in China in 2017, a market which was once dominated by the latter type of equipment.
"The sudden recovery in market demand is attributed to the large number of new projects that have been given approval to proceed since 2015, when the government decided to strengthen the economy by increasing infrastructure investment," said Off-Highway Research.
The market previously peaked in 2011 on the back of the Government's stimulus spending programme. However, this boom was followed by a crushing decline in sales which saw market demand fall to a quarter of its peak size at the bottom of the cycle in 2015 and 2016.
India
Elsewhere in the world, the Indian market remains strong, with 10% sales growth forecast for this year, continuing the momentum of the 36% surge seen in 2016. This will see the market surpass the previous record high of 54,065 machine sales seen in 2011.
Off-Highway Research expects continued growth in the market, although this will inevitably moderate in 2019 due to the general election. However, growth is expected to resume thereafter, with sales likely to exceed 73,000 units in 2021.
"Almost all types of equipment will witness growth, though the market will continue to be dominated by the six most popular products: backhoe loaders, crawler excavators, mobile cranes, mobile compressors, compaction equipment and wheeled loaders. Together these will account for 93 per cent of the market in 2021," said Off-Highway Research.
Europe
In Europe, sales of construction equipment are expected to grow by 2% this year to almost 145,000 units. This moderate rise follows an 11% surge in 2016, which was driven by booming demand from the German residential construction sector.
Most countries in Europe will see increased equipment sales in 2017, including the major markets of France, Italy and the UK. However, the German market is expected to see a sharp correction, having hit record levels in 2016. This slide in Europe's biggest equipment market will offset many of the gains seen elsewhere.
The North American market is expected to climb 8% to over 170,000 units. This would take it back to levels seen in 2014 and 2015, before market growth was disrupted by last year's presidential election.
Similarly, in Japan, a 4% increase in equipment sales is expected, following a slump in demand last year. The correction of 2016 was preceded by three years of unusually high sales in response to the government's stimulus policies – Abenomics – and the demand for equipment needed for reconstruction work following the 2011 earthquake and tsunami.
Over the longer term, Off-Highway Research expects global construction equipment sales to rise to close to 900,000 units
by 2021, with a value of more than US$90 billion in today's terms.