Reduced tail swing excavator set for Vegas
By Steve Ducker23 November 2017
Doosan Construction Equipment has announced that it will display a DX140LCR-5 reduced tail swing crawler excavator during the World of Concrete exhibition, which takes place in Las Vegas, USA, from 23 to 26 January.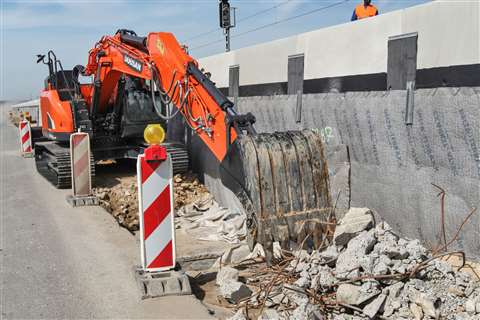 The 15 t machine will be configured with a quick coupler and hydraulic breaker, as well as optional rubber track pads.
The company said the DX140LCR-5 excavator offers a shorter tail swing, allowing operators greater flexibility where space is a premium without sacrificing performance. The Doosan DX140LCR-5 excavator is designed for long life with an extra-sturdy frame and reinforced superstructure. The machine comes standard with permanently sealed and lubricated track links, and the workgroup bushings and hard-wear disks are designed for reliability as well as extended service intervals to increase uptime.
A standard 7 in LCD screen allows operators to continue monitoring excavator parameters while viewing the rear view or optional side view camera image. Critical machine data appears next to the camera view. When the optional side camera is installed, a split screen allows both rear and side camera displays to be viewed at once.
To help save valuable diesel fuel, auto shutdown is standard to help owners save fuel during non-working conditions. Operators can configure the idle time from three to 60 minutes. When enabled, the feature will shut down the excavator's engine when the preset idle time is met. This is particularly helpful in areas where local regulations require idling for only limited periods for off-highway machines.