Refurb brings Liftluxs up to scratch
By Euan Youdale09 August 2016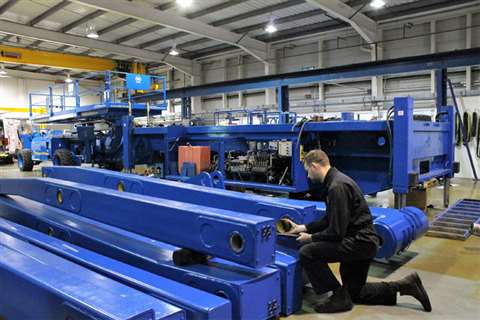 PSR (Platform Service & Repair) is giving a new lease of life to a number of high capacity Liftlux scissors belonging to UK-based Nationwide Platforms.
The complete strip down and rebuild included shot blasting and re-painting in Nationwide Platforms' blue livery, as well as installing new engines, generators and control boxes.
Tony Lock, service director at PSR, said, "This is PSR's biggest refurbishment operation to date and we are incredibly proud of the results. The machines look, feel and operate like brand new access platforms.
"Refurbishment to such a high level is a cost-effective way for access rental companies to substantially extend the working life of their booms and scissors, as well as maintaining hire rates for older equipment."
"With some manufacturers offering extended lead times for big booms and scissors, refurbishing existing machines to a good-as-new standard can also be quicker and more efficient way of refreshing the fleet."
PSR's programme for Nationwide Platforms encompasses major chassis tests and repairs, through to fine details such as cleaning the fuel tank and providing new safety decals and operators' manuals. The engineers also carried out load tests and a Thorough Examination once all the work was complete.
Marc Johnson, technical director at Nationwide Platforms said, "Due to continuing high demand for large scissors we have invested heavily in a range of new Holland Lifts to replace the majority our existing fleet; however the ageing Liftliux machines still remain popular with our customers so in addition we selected a number to be fully refurbished to complement our offering."
PSR has completed refurbs on Liftlux SL205-25 machines and is now working on SL260-25 models. The SL205-25 has a 20.5m platform height and a GVW of nearly 15 tonnes, while the SL260-25 provides a 26.3m platform height and weighs almost 25 tonnes.