Regional Report: Asia Pacific
By Thomas Allen01 August 2018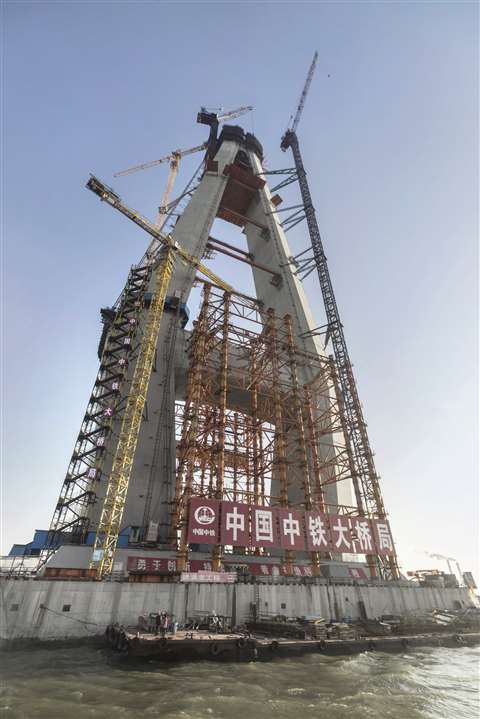 While Japan is the land of the rising sun, Asia Pacific is the region of rising ambitions. The Asian Tigers and their Tiger Cubs – as the most dominant and quickly developing economies in the region are known – continue to break records with their mega construction projects.
Perhaps chief among them is China, whose economy picked up pace again in 2017 after dipping to a 26-year low of 6.7% GDP (gross domestic product) in 2016, according to a report by professional services company Turner & Townsend. However, for 2018, the Chinese government has slightly lowered its growth target to 6.5%, as it focuses on deleveraging, containing debt and controlling financial risk.
The outlook for the construction industry in Beijing and Shanghai, in particular, looks bright, with the trend for migration from rural to urban areas expected to fuel the demand for urban development. This, combined with the government's desire to mitigate financial risk, means that infrastructure investment is set to surge this year.
Record-breaking
One example of the record-breaking scale of development in China is the Shanghai-Nantong Yangtze River Bridge, which is currently under construction in Jiangsu Province, north of Shanghai, and is set to be the world's largest cable-stayed bridge. The south bridge will be a cable-stayed structure that spans the one-kilometer-wide main channel of the Yangtze River, while the north bridge will cross the Tiansheng Port channel.
Measuring a total of 11km in length, the double-decker bridge will have a six-lane highway on its upper level and a four-line railway on the lower.
A cofferdam, said to be one of the largest and deepest ever built, will house the 325m-tall pylons – another world record for any cable-stayed bridge. The enclosed area will be equivalent to 12 basketball courts and it will have a depth of 115m. Meanwhile, each of the pylons will use approximately 147,000m3 of concrete. Due for completion in 2019, this traffic link is part of an effort to create a new economic zone around Shanghai.
The Hong Kong economy also experienced fast economic growth in 2017, with GDP expanding by 3.7%, and this is expected to be almost matched in 2018 by 3.5% growth.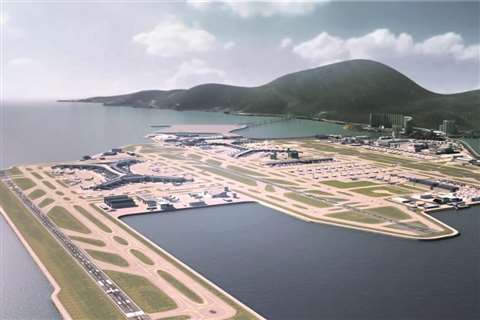 Last year, the new Hong Kong Special Administration Region (HKSAR) chief executive Carrie Lam put an emphasis on boosting housing and infrastructure. With tourism recovering, construction has begun on an US$18 billion expansion project to provide a new terminal and third runway at Hong Kong airport by 2024.
For this project, a joint venture led by Leighton Asia – part of Australian construction group Cimic – was chosen to carry out AUS$390 million (US$288.6 million) worth of foundation and substructure works for Terminal 2 – after also being previously selected for a contract for Terminal 1.
The contract is for the construction of two annex buildings and associated viaducts, the Terminal 2 basement, south annex building structures, diaphragm walls, utility services and other advance works, which are slated for completion by December 2021.
With the feeling that almost any scheme that the Chinese government gets behind can be achieved, it is inevitable that China's ambitions spill out beyond its borders. The clearest embodiment of this is the One Belt, One Road (OBOR) initiative – a modern iteration of the ancient Silk Road trade route between East and West. However, with China extending its influence, tensions are being created in the Asia Pacific region as countries compete for investment opportunities.
Competing loans
So, while China has recently approved a $1 billion loan for a major highway project in Sri Lanka, Japan has green-lighted a loan for an $88 million highway development in the Philippines.
The loan to Sri Lanka – to be provided through the Export-Import Bank of China – will enable the first section of the long-delayed road between Colombo and Kandy to be build. However, Colombo is recognised as a key hub for Indian cargo and Beijing has been accused of developing facilities around the Indian Ocean to secure its own economic interests and increase its influence in order to counter that of India. Other Sri Lankan megaprojects funded by China include the Colombo Port City and the Hambantota Port and Industrial Park.
Meanwhile, Japan's loan to the Philippines will see the expansion of a road in the country's Bulacan province. It will enable the construction of the third phase of the Arterial Road Bypass Project – a 24km arterial road that will link the North Luzon Expressway in Balagtas with the Philippines-Japan Friendship Highway in San Rafael. Counterpart funding of $15 million will be provided by the Philippines' Department of Finance.
Phases one and two of the project were also financed with official development assistance loans from Japan, signed in 2004 and 2012.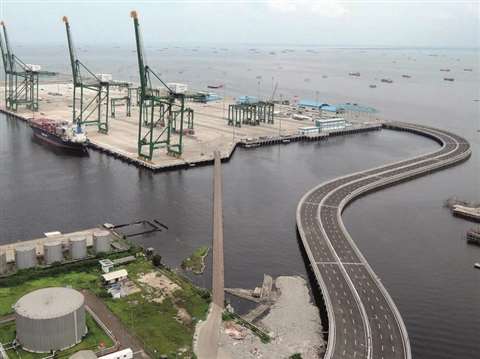 The Japanese government has also agreed to provide $1 billion to Indonesia for the construction of a new port in Java. Located about 120km east of the country's capital Jakarta, in the Subang Regency, West Java, the Port of Patimban is intended to ease the pressure on the Port of Tanjung Priok, which has been experiencing heavy traffic but cannot expand because it is hemmed in by Jakarta.
As well as relieving some of the burden on the Port of Tanjung Priok, the new port will provide the nucleus for a special economic zone, and it will reduce the cost of logistics by bringing infrastructure closer to the manufacturing industry.
Chandra Irawan, Indonesia's director of ports, said that Japanese firms' technical ability would be useful in building the port. Due to the type of soil at the site, double casting will be required to make a strong dock, and Japan was said to have contractors that are capable of such work.
Stage one, phase one of construction is due to be completed by 2019, with the aim to accept the first ships in March of that year. The whole project is scheduled for completion by 2027.
Japan to welcome the world
The Japanese economy has been expanding, with 1.7% GDP growth expected for 2017 – and that growth is set to continue into 2018.
Preparations for the Tokyo Olympics 2020 are boosting construction. A large national stadium is underway for completion in 2019, along with six other sports complexes – though the design has had to be altered to make it more affordable. In addition to this, Japan is hosting the 2019 Rugby World Cup and, as a result, is investing in a number of stadium upgrades.
Another significant development connected with the Olympics is the New Shinagawa Railway Station, which is being built to service the Yamanote Loop line and the Keihin-Tohoku line ahead of the major international sporting event.
However, skills shortages and rising costs continue to remain challenges for the Japanese construction industry, and there is the possibility of a small post-Olympic slump, according to the Turner & Townsend report. Yet, the outlook remains positive as Japan continues to promote innovation.
One example of this innovation is the world's tallest wooden building, for which plans have been developed by Sumitomo Forestry in Tokyo, Japan. At 350m in height, the high-rise will have 70 storeys and a total floor space of 455,000m2 dedicated to a mix of shops, offices, hotels and residential property.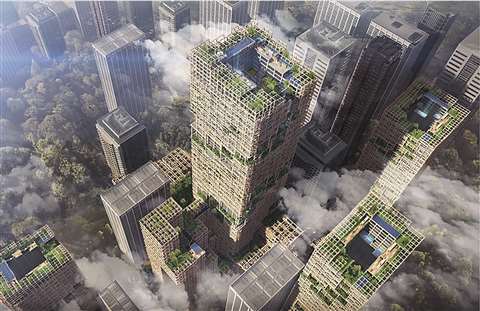 The building will be 90% wooden, using about 185,000m3 of timber in total, and a braced tube structure will be used, in which steel frame vibration control braces are positioned inside a column-and-beam structure. This helps to prevent deformation of the building in the event of earthquakes and high winds.
It has been estimated that the project will come to a total cost of JPY600 billion (US$5.6 billion), which is about double that of a high-rise building constructed using conventional materials and technology. However, it is expected that technological development over time will bring that cost down. The building is expected to be completed in 2041.
Reach for the sky
What was said to be the tallest building on the Indochina Peninsula – and the 14th tallest building in the world – was recently completed in Ho Chi Minh City, Vietnam.
Standing 461.2m tall, Landmark 81 required some serious foundations. The Vietnam-based construction company Coteccons was involved in what was said to be the country's largest concrete pour. It involved the excavation of 25,000m3 of soil, the installation of 6,500 tonnes of reinforced steel, and the use of 17,000m3 of concrete to create the 8.5m-thick pile cap for the tower's foundations.
Since safety was such a key concern on this large-scale project, a purpose-built jump form system was used to construct the building's 81 floors. The system, considered the safest option from the perspectives of both constructability and worker safety, allowed a typical floor build cycle time of between just three and four days.
This is one of a number of large construction projects in Vietnam, along with the $1 billion Thu Thiem Smart City scheme in Ho Chi Minh City, the $800 million investment in metro lines in the city, and the planned $16 billion Long Thanh International Airport project. With the country's rapid population growth, the government is prioritising infrastructure improvement.
There is good momentum in the Vietnamese construction industry, according to the Turner & Townsend report, which is forecast to carry on through to 2021, sustained by strong economic growth – GDP grew by 6.2% in 2017 – and public investment in infrastructure and housing.
Australian connections
The report also suggested that investment in infrastructure has been a focus in Australia, where road, rail and tunnelling projects have been ramping up.
WestConnex, the country's largest transport infrastructure project at AUD$16.8 billion (US$12.4 billion), is currently under construction to improve the transport network in Sydney.
So far, the M4 between Parramatta and Homebush has been widened and the pre-existing road surface smoothed at a total cost of AUS$497 million (US$367.4 million), and the on- and off-ramps at the King Georges Road M5 Interchange have been lengthened at a cost of AUS$131 million (US$96.8 million).
Sydney Motorway Corporation, which has overall responsibility for the scheme, has yet to extend the M4 in twin underground tunnels between Homebush and Haberfield, which it has been estimated will cost AUS$3.8 billion (US$2.81 billion), and to create new M5 underground tunnels running between St Peters and Kingsgrove at a cost of AUS$4.34 billion (US$3.21 billion). These tunnels will then be connected via the M4 to M5 Link tunnel.
A bypass will also be built around the city's central business district, and connections will be created to the future Western Harbour Tunnel, BeachesLink and F6 extension. Over the course of the WestConnex project, it was said that approximately 10,000 jobs would be created.