Regional Report: Middle East
By Richard High12 May 2008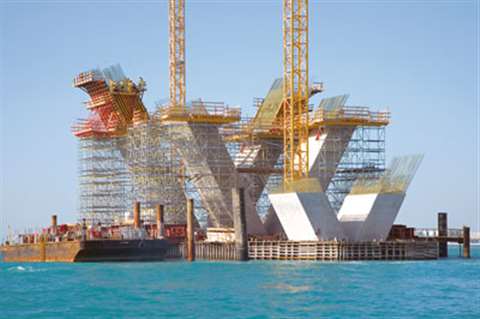 High global demand for oil, gas and minerals, alongside ever increasing population levels is driving the Middle East's current round of infrastructure spending. Richard High reports.
It seems that wherever you look in the Middle East at the moment there is a luxury, mixed-use, island idyll or self-contained city style development either under construction or coming on stream. While the supply of hotel rooms, apartments and luxury villas looks secure, there are vital parts of the jigsaw missing.
Getting people into, out of and around the region is increasingly coming under the microscope of developers and governments. No surprise then that oil and mineral rich Gulf nations are spending some of the cash coming their way on connecting these mega-developments.
Never one to let a construction boom slip through its fingers Dubai has committed to spending AED 52.5 billion (US$ 14.3 billion) on its transport network, including construction of two metro lines, expansion of its bus and water transport network, and upgrading its taxi service. And just this month (April) it has announced a 14 km-long, AED 4 billion (US$ 1.1 billion) tram network.
Earlier this year Roads and Transport Authority (RTA) chairman Mattar Al-Tayer said the tiny emirate was to spend AED 10.5 billion (US$ 2.86 billion) a year for the coming five years on transport. But just how much money the RTA is actually spending seems to be something of a moot point.
In June 2007 Mr Al-Tayer said it planned to invest at least AED 75 billion (US$ 20.4 billion) over five years on transport infrastructure. This would concentrate on easing the burden the emirates' rapidly expanding population is placing on the transport networks.
Dubai currently has the largest number of vehicles per person anywhere in the world. According to the RTA, it has 541 vehicles per 1000 residents, compared to 444 in New York and 345 in London. Traffic congestion is estimated to cost the economy about US$ 1.25 billion per year, equivalent to 3.15% of gross domestic product (GDP).
Funding
To help raise funds the RTA is to sell 10-year branding rights to many of the rail and metro stations it plans to build, said Mr Al-Tayer. Developer Emaar has paid AED 100 million (US$ 27 million) to build and brand the station at its US$ 20 billion Burj Dubai development.
"This is a chance for us to make money and [is] used in Europe and the US," he said. Money will also come from the recently introduced road toll system - Salik, which means "clear and moving" in Arabic, and expanded the number of parking spaces it extracts a fee for.
Other plans announced to get the population out of their cars include the US$ 136 million, 4.6 km-long Downtown Burj Dubai Tram System. Part of Emaar Properties' US$ 20 billion Downtown Burj Dubai project the first phase is scheduled to be up and running by the end of 2009.
While all these plans seem fine on paper there have been some problems with delivering them. With no bids forthcoming first time round the RTA has been forced to invite contractors to submit letters of interest for construction of Dubai Creek's AED 3 billion (US$ 817 million) 'sixth crossing' again.
The new bridge, which will be 1600 m long and 64 m wide, with a 667 m long, 205 m high arch, will become the longest arched bridge in the world when finished. Expected to take four years to construct it will include 12 lanes, six in each direction, walkways and carry part of Dubai's Metro lines in the middle.
Called Sheikh Rashid bin Saeed Crossing it will link Al Jaddaf at Bur Dubai with the road separating the Lagoons project and Dubai Festival City, providing entry/exit points for the man-made Creek Island, on which an opera house will be constructed.
Regional plans
With the Gulf Co-operation Council (GCC) and the World Bank currently working on a feasibility study to create a US$ 2.5 billion pan-Gulf rail network many countries in the region either have lines under construction or are announcing their intention to expand their networks.
Oman is currently considering building a 200 km railway linking the industrial town of Sohar with Barka, according to economy Minister Ahmed bin Abdulnabi Mekki. Initially designed to carry just goods there are already plans to extend it for passenger use, added Mr Mekki.
With a possible extension of the line to Duqm on Oman's eastern coast, Oman and Daewoo Shipbuilding & Marine Engineering Construction Company could also agree on a start date for the construction of a US$ 20 billion airport, seaport, refinery and town at the end of the line.
Egypt's government has announced it will invest EGP 10 billion (US$ 1.85 billion) in rail, part of a larger EGP 90 billion (US$ 16.3 billion) five-year investment plan for its infrastructure networks.
With economic growth hitting +7.1% in 2007 the country's ageing infrastructure is on the point of collapse. "The economy grew +7.1% last year, [but] we need efficient infrastructure to sustain that," said transport minister Mohamed Mansour. "We need to upgrade our road, rail and Nile transport systems."
Egypt expects EGP 50 billion (US$ 9.07 billion) of private sector investment in its ports over the next three years. Another EGP 30 billion (US$ 5.45 billion) in public and private investments would go on roads over the five-year period.
Wealth creation
And this is the crux of the matter for many of the region's oil, gas and mineral rich countries. Infrastructure investment creates jobs - those needed to build it, those needed to operate it and those needed to extract the raw materials that will be transported on it.
And Saudi Arabia currently boasts two of the largest infrastructure projects anywhere in the world designed to do just that. In the pipeline is the US$ 5 billion 'Saudi Landbridge Rail Project', a 1100 km-long railway east-west railway across the country's desert interior.
Under construction is the US$ 2.8 billion North-South Railway (NSR). Both projects are part of its Railway Expansion Program, which will add 3200 km of track to the existing network of just 1000 km.
Saudi Arabia's Railway Organisation (SRO), which launched the Landbridge project in March 2005 (see iC news, March 2005), has just announced that the Tarabot consortium - seven Saudi Arabian partners and Australia's Asciano - has been selected as the preferred bidder for the project.
Structured as a Build-Own-Operate-Transfer (BOOT) contract, Tarabot will own 80% of the 50-year concession, with the Saudi Arabian Government holding the remaining 20%. Project finance should be finalised within 12 months, with construction beginning shortly afterwards.
The new railway will see construction of about 950 km of new line between Riyadh and Jeddah, together with 115 km of new line between Dammam and Jubail at a projected cost of US$ 1 million per km, for a total cost of US$ 1.07 billion. The project will also see the upgrading of the existing rail link between Riyadh and Dammam, including connections to the new lines between Riyadh-Jeddah and Dammam-Jeddah.
Integration between the new lines with Jeddah Islamic Port, King Abdul Aziz Port, Dammam and Riyadh Dry Port also forms part of the package, which will be the first time the Government has procured infrastructure in a BOOT contract.
While the Landbridge aims to Link the Red Sea and the Arabian Gulf, the under construction NSR will connect the northern phosphate mines at Al-Jalamid and the Bauxite mines of Zabirah south to the coast at Ras Azur. It will also carry passengers and general freight from Qurayyat through the urban centres to the capital Riyadh. When finished over 1 billion tonne-km of cargo will be transported each year, reducing the time from mine to port by days.
Outlook
With global demand for oil, gas and minerals such as bauxite and phosphate at an all time high, the Middle East will continue to benefit financially. However, coping with this demand will require huge investment throughout the region in transport infrastructure - road, rail, waterways, ports and airports.
Governments have shown a willingness to invest but contractors are showing some reticence to commit under the fixed price contracts presently being offered. If the region's infrastructure is to cope with the demands being placed on it investment must be more forthcoming and governments and developers less intransient.