Registration open for ALH Conference
By Lindsey Anderson24 August 2020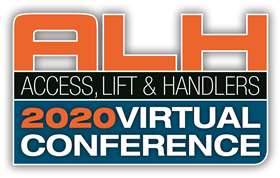 Registration is now open for the virtual 2020 ALH Conference set for Oct. 23. Interested attendees can register for free at https://www.alh-ca.com/register.html
Speakers and topics include:
Keynote: Lessons learned from Covid-19 presented by Norty Turner, United Rentals. Turner will discuss how the world's largest rental company adapted during the global pandemic, including best practices and future processes.
Forecasts on construction and industrial activity in North America, Scott Hazleton, IHS Markit. Hazleton, director, global construction team, IHS Markit, will discuss the latest data and market forecasts for the all-important customer segments for rental.
The way ahead for IPAF, Peter Douglas, CEO and managing director of the International Powered Access Federation (IPAF), will discuss the priorities for the association in training, safety policy and research.
Training in a Covid-19 world presented by Jim Colvin, CEO of Serios Labs. Colvin will speak about how Covid-19 has changed the training landscape for the current times, as well as for the future.
Electrifying trends, a presentation by Shashank Bhatia, JLG's senior director of engineering for aerial work platforms, product development, will discuss electrification and the access and telehandler industries.
The Conference, in its fifth edition, will be reworked to accommodate an online audience with fewer speakers and shorter presentations, but will maintain essential information on rental business trends, safety, management of rental operations, new rental technology and the latest product developments.
If you are interested in sponsorship, Tony Radke can be reached at tony.radke@khl.com.
In 2019, around 200 industry professionals attended the event in San Diego. Visit www.alh-ca.com for developments. The ALH Conference is organized by Access, Lift & Handlers magazine and its publisher KHL Group, and has support from industry partner IPAF
Independent viewpoint lead by Lindsey Anderson who will conduct a live interview with one of North America's leading independent rental companies about 2020 and the coming year.