Remote controls: Radio stars
By Christian Shelton27 May 2019
The latest development being pushed by Crailsheim, Germany-based crane and machinery radio remote control manufacturer HBC-radiomatic is its Mobile Camera System (MCS). The MCS works in conjunction with HBC-radiomatic's Photon offering, which is available as an option for the Technos 2, Technos B, Spectrum D and Spectrum E remote controls.
The Photon provides a live video feed displayed on a 3.5" flat screen integrated into the radio remote control. The Photon interfaces with cameras from Netherlands-headquartered electronics manufacturer Orlaco and, according to HBC, cameras with different viewing angles can be used or even infrared cameras for use in low light or darkness. The Radiomatic Photon enables the operator to switch between live video and feedback modes. In feedback mode, critical machine data is displayed.
With the addition of the MCS, the placing of the camera has been simplified, as the MCS camera doesn't have any external wires to connect. To facilitate ease of placement, the portable, wireless camera is housed in a carrying frame with an integrated support leg. The power is supplied by two HBC rechargeable exchange batteries with Li-ion technology. An adjustable camera mount enables exact positioning of the camera.
This means the camera can quickly and easily be placed at key points to enhance operator visibility and thus increase safety, explains HBC-radiomatic.
New generation
The company reveals it has also developed a new generation of its Spectrum controller series, which will be launched at Bauma 2019. The Spectrum is one of HBC's key product lines and was launched more than 30 years ago. According to HBC, the renovated Spectrum versions will come with updated radio technology, colour displays, additional category 3 PL d safe commands (to EN ISO 13849-1:2015 standards), and new batteries with longer running times. Visitors to the Bauma show will be able to see these products on the company's booth (outdoor exhibition area FM 708/5).
Oklahoma City, USA-headquartered radio remote control systems manufacturer Hetronic is promoting its new Ergo S handheld transmitter. The Ergo S can have up to 12 programmable buttons, a 2.4" flat screen, and a rugged joystick control with IP65 rating. The transmitter also has a belt clipping feature and a magnet attachment system.
Hetronic says the Ergo S can be programmed by the user via Hetronic's H-Link PC system and that the transmitter has its latest firmware to reduce the vulnerability of users to cyber attacks. Hetronic will be at Bauma on stand FS 1204 in the outdoor exhibition area.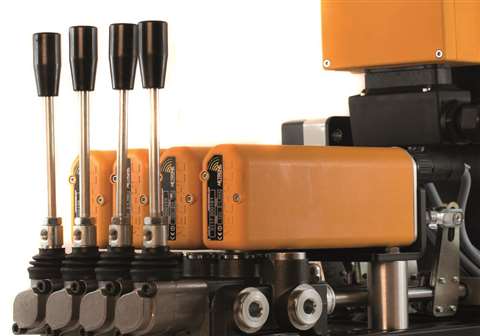 Hetronic's MEC-HL C radio remote control kit
Italian remote control manufacturer Autec is promoting the latest additions to its portfolio: the Compact; Link; and Curve, which visitors to Bauma will be able to see on its stand (outdoor exhibition area FM 807/9).
The Compact is a joystick transmitting unit that can be used for the remote control of tower cranes, overhead cranes, hydraulic machines and other mobile applications. It comes with proportional digital controls. A data feedback function provides machine status data on a customisable 2.8" colour flat LCD graphic display or via 32 LEDs.
The side buttons are flush with the rest of the unit and the stop button can be located either on the top, on the bottom or on the side. A configurable dual band radio with automatic open frequency search function is designed to provide a reliable radio connection.
The Link transmitter is designed for wireless control of hydraulic cranes and can have four, five or six linear joysticks. It weighs 1.75 kg and a customisable 2.8" colour display can be specified. Link has a bi-directional FHSS radio on the 870/915 MHz or 2.4 GHz frequency bands. It is the first transmitter in the 'P' range under Autec's Dynamic series. It allows easy pairing with a new CAN receiver (CRP) via cable, Autec said.
The curve is a joystick transmitter with eight linear joysticks and up to three multi-axis joysticks. It's suitable for controlling medium to large hydraulic cranes, said Autec. It has a 2.8" colour display and one with a 4.3" colour display is coming.
Industry developments
Away from the frenzy surrounding Bauma, there's plenty of other industry news in the radio remote control arena.
Sweden-headquartered industrial radio control systems manufacturer Tele Radio has launched a new corporate identity. Tele Radio was founded in Sweden in 1955 and the company has grown to now have subsidiaries in Europe, the USA, Australia and Asia. In addition, it has a network of dealerships – including Italian industrial remote control manufacturer Ravioli, which became an authorised Tele Radio dealer in 2018.
To keep pace with its global growth the company has developed a new logo to provide a consistent global identity and, since February 2019, has had new corporate branding. It has also developed a new website.
New products are in the pipeline, too. "One of the first new products features a modular design," says Ola Samelius, president at Tele Radio. "Based on a standard enclosure, it is possible to incorporate the operation of virtually any desired function. Extra functionality can be added without difficulty.This gives our customers more possibilities as their needs change and grow, for example, if they wish to modify their machinery."
Beginnings and endings
Global engineering group Cavotec has opened a new production facility in Milan, Italy. "Not only are we opening a state-of-the-art production facility, we're opening a new chapter in the Cavotec story," said Cavotec CEO, Mikael Norin. "These premises will ensure that we build the manufacturing and supply chain excellence that will see Cavotec realise its full potential."
In Spain, technological engineering and development company Ikusi was acquired by Danish hydraulics and controls manufacturer Danfoss in the second half of 2018. Ikusi makes wireless systems to operate and control, among others, truck mounted cranes, winches, and off-road machines. It will be integrated into the Danfoss Power Solutions business segment, Danfoss said. The price of the deal was undisclosed. The acquisition included a factory in Spain and sales offices in the USA, Germany and Dubai.
In related news, Stockholm, Sweden-headquartered radio remote control systems specialist Scanreco announced that, as of 1 March 2019, Danfoss Power Solutions will no longer be a distributor in Norway for Scanreco's products. Instead, Scanreco refers customers to BT Hydraulikk.
Scanreco has also announced it supplied the remote control used to operate a huge pile gripper frame that's being used for the construction of the Veja Mate offshore wind farm in the North Sea. The 1,400 tonne capacity pile gripper frame is being used onboard the Seajacks Scylla wind turbine installation vessel to place 67 XXL-size monopiles. According to Scanreco, its remote control worked very well for this application. Scanreco will be present at Bauma (stand number A2/143).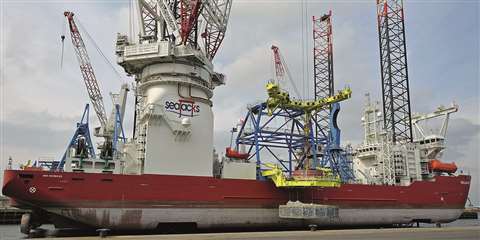 Scanreco supplied the remote control used to operate a huge offshore pile gripper frame
New markets
Wisconsin, USA-based digital power and motion control systems manufacturer Magnetek has announced its Flex Base wireless control system is now available in Europe. The Flex Base is designed for lifting applications, including chain hoists and small cranes. Flex Base systems are have two transmitters and a receiver which, Magnetek says, allows for easy replacement and increased uptime.
The Flex Base transmitter can be packaged with Magnetek's Flex Base or MRX receivers. Paired with the four and six-button Flex Base transmitter, the MRX receiver can be mounted on a control panel or the body of a hoist without causing any system imbalance, says Magnetek. The MRX receiver offers a Voltage Select feature that automatically adapts to control voltage from three power supplies: 9-36 VDC, 24-48 VAC, and 48-240 VAC.
New orders and products
Italian radio remote control specialist Imet has launched the M880 tri-axial joystick. The company claims it has the highest functional safety level available in the market at PL d safety specification. The bidirectional rotating knob can control both on and off and proportional outputs. IMET said the control uses proven contactless optical sensing technology that provides a long operational life and immunity to magnetic fields.
Spanish radio remote control company Itowa is shipping a dozen remote control devices to control weight for a customer in South America. The push button remote controls control both overhead cranes and the total load the cranes are lifting, thus increase safety, Itowa says.
Itowa has also been awarded 'innovative business' status by Spain's Ministry of Science, Innovation and Universities. This recognition lasts until 23 January, 2022, and follows the company's previous recognition from 2016.
Radio remote control system manufacturer Åkerströms in Sweden won orders worth SEK 1.2 million (US$ 132,000) towards the end of 2018. The control equipment for industrial use will go to Scanmaskin and Weimer Skogsteknik & Hydraulik.
Anna Stiwne, Åkerströms head of sales, said, "The co-operation with Scanmaskin started in 2007. We have since then delivered a significant amount of radio remote controls for them. In close co-operation with the customer we have developed custom solutions for their needs and machines."
Scanmaskin has manufactured surface treatment, floor and polishing equipment at its facility in Lindome, outside Gothenburg, in Sweden since 1975.
The other order is from Weimer Skogsteknik & Hydraulik, a manufacturer of industrial forestry trailers for the Swedish market. The remote control equipment will be used for trailer mounted winches.
"We are thrilled to be able to supply remote controls for Weimer's quality winches which meets their high quality demands in durability," concluded Stiwne.
The photo below is used by Pennsylvania, USA-based industrial remote control specialist Control Chief to illustrate the long life and durability of its remote controls. "We have serviced units that have been in operation for close to 30 years," the company claimed.
But it's not all about the old models; Control Chief has revealed that it will soon launch a new L-Series transmitter. The new lightweight transmitter has a real-time feedback display and intuitive controls, said Control Chief. "The additional market potential that this model opens up for Control Chief is enormous," comments Brian Landries, vice president of sales and marketing.