Renta Group expanding into Norway
By Thomas Allen28 August 2019
Finland-based Renta Group has acquired Norwegian rental company Flexleie for an undisclosed amount.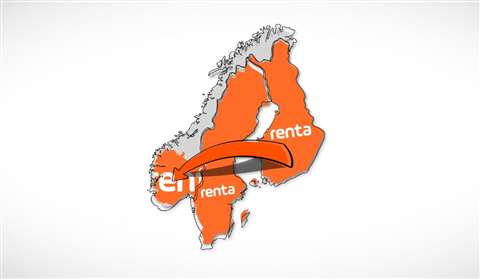 Flexleie was established in 2002 and is owned by Norwegian private equity firm Atlantis Vest together with key personnel. Through its network of six depots, the company operates in the north and along the west coast of Norway and in the Oslo region. It also recently started to operate in Sweden.
Flexleie's net sales in 2018 were NOK120 million (€11.9 million). After the acquisition, Renta Group's net sales in 2018 are estimated to be approximately €140 million.
Kari Aulasmaa, the CEO of Renta Group, said, "The acquisition of Flexleie is the first step for Renta in its expansion to Norway and ensures an entry to this important machine and equipment rental market in the targeted Baltic Sea region. Flexleie is an excellent company and our ambition together is to expand into a nationwide operator in Norway."
The acquisition was completed at the end of October 2018.
Flexleie continues to operate as an individual business within the Renta Group. The CEO of Flexleie, Kato Stien, and key individuals at the company are continuing in their previous positions and have become minority owners of Renta Group.
Stien said, "Renta is the perfect long-term industrial partner for us. We share the same culture as well as the same view on growth, and the importance of local business."
He added, "Our common ambition is to become a nationwide player. Our employees will get many new colleagues across the Blatic Sea and I am certain that both companies can learn from each other and together use that knowledge to the benefit of our customers."