Rental award winners announced
By Thomas Allen30 June 2020
The winners of the 2020 European Rental Awards are Vatupassi, Mollo Noleggio, Wacker Neuson, Spartan Solutions, GSV Materieludlejning, Volvo CE, and Manitou.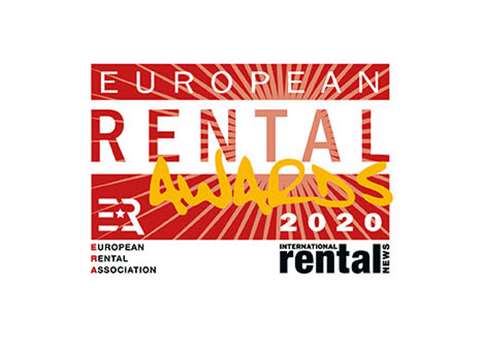 This year's awards ceremony was held as an online event for the first time due to the Covid-19 pandemic and attracted morethan 500 registered delegates. The awards are organised by the European Rental Association and International rental News magazine.
The winners and shortlisted companies, selected from more than 80 entries, were:
Small Rental Company of the Year (<€15 million revenues)
Cross Rental Services (Ireland/UK)
Drial Wynajem (Poland)
Vatupassi (Finland) – WINNER
Milla Tarnanen, CEO of Vatupassi, said, "This win makes me so happy and unbelievably proud of the whole Vatupassi team. It shows that we are doing the right things and we are on the right path."
Large Rental Company of the Year (>€15 million revenues)
Loxam (France)
Mollo Noleggio (Italy) – WINNER
Renta (Finland)
Mauro Mollo, CEO of Mollo Noleggio, said, "For our company, this award is of great value. But knowing our personalities and ambition, we will work for this recognition to be a starting point and not a finishing line."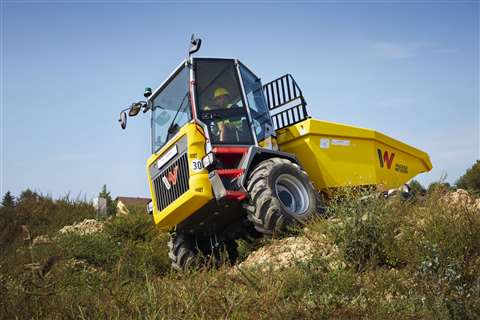 Rental Product of the Year
Atlas Copco (E-Air VSD electric compressor)
Caterpillar (301.7 CR mini excavator)
Consair (CAMU D2 dust extractor)
Endress (Energy Storage & SmartEnergyBox)
JCB (19C-1E electric mini excavator)
Wacker Neuson (Dual View dumpers) – WINNER
Alexander Greschner, CSO of Wacker Neuson, said, "During our Voice of Customer sessions, a lot of rental companies, from France, the UK and Germany, together with operators from all over Europe were working on the challenge to improve safety and security for operators and the environment on jobsites while working with dumpers."
Best Digital Innovation of the Year
CheckMobile (AI-based damage detection software)
Intrador (Used equipment valuation tool and App)
Riwal (My Riwal App, VR training, augmented reality App)
Spartan Solutions (PHALANX digital operations platform) – WINNER
Jim Green, CEO of Spartan Solutions, said, "Innovation was always important, but now it's vital for the rental industry to recover from this pandemic and get back on its feet again quickly. A big part of that is going to be digitalisation, and we believe rental companies just can't hope to run their operations efficiently in future using paper processes."
Best Sustainable Rental Project of the Year (judged by the ERA's Sustainability Committee)
Volvo Construction Equipment (Sweden) – JOINT WINNER
GSV Materieludlejning A/S (Denmark) – JOINT WINNER
Hoogwerkt (The Netherlands)
Speaking about the sustainability conference for which GSV won the award, Dan Vorsholt, the company's CEO, said he was encouraged by the positivity and good ideas shared by delegates, adding, "It's not a one-man show; we need to do this together with customers and suppliers."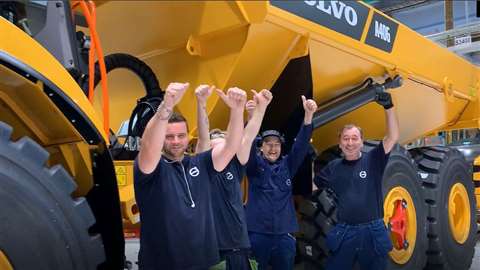 Meanwhile, Johan Wollin, Global Director for Energy Management at Volvo CE, highlighted the non-energy benefits of taking a sustainable approach, saying, "We see that we can reduce a significant amount of costs due to non-energy benefits. We can reduce maintenance costs, we can reduce production consumables, we can even indirectly improve quality and safety by working on energy management." The financial gains of these benefits were said to be substantially greater than the reduction in energy bills.
ERA Technical Committee Award (judged by the ERA's Technical Committee)
Haulotte (France)
Manitou (France) – WINNER
Skyjack (Canada)
Michel Denis, President and CEO of Manitou, said, "At Manitou group, we design and manufacture machines and services with passion, dedication, expertise and innovation to meet your needs: rental expectations. So we could not have expected better recognition."
Due to the change in format, there were no awards for Rental Person of the Year or Lifetime Achievement.
A digital supplement with summaries of the shortlisted submissions can be downloaded for free here.

The European Rental Awards & Market Update webinar also included presentations from three industry experts: `Pierre Boels, ERA President & CEO, Boels Rental; Martin Seban, Consulting Director, IHS Markit; and Chris Sleight, Managing Director, Off-Highway Research.
A recording of the webinar will become available shortly.
The judges were:
Vincent Albasini, CEO, Avesco Rent
Pierre Boels, President, European Rental Association & CEO, Boels Rental
Jaap Fluit, General Manager, Bredenoord
Karel Huijser, General Manager & Vice President, EMEA, JLG Industries
Murray Pollok, Managing Editor, International Rental News
Non-voting chair: Michel Petitjean, Secretary General, European Rental Association
The judges chose all the shortlists and winners, except for the Sustainability and Technical awards, which were judged by ERA Committees.