Report reveals €100 billion Polish projects
By Mike Hayes04 July 2019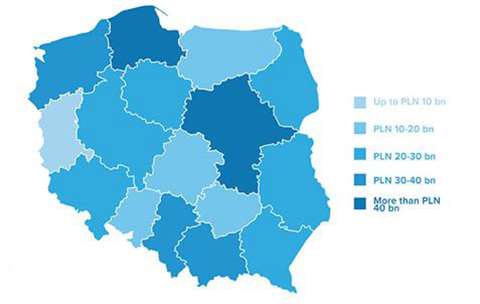 A study by construction market analyst Spectis has found that the value of the 960 largest projects planned or underway in Poland totals €100 billion – almost double the country's annual output.
Of the projects examined by the market analyst, ongoing projects accounted for €24 billion, while projects at the design or planning stages have a combined value of €76 billion.
The study focused on the top 60 projects in each of Poland's governed regions, or voivodeships – 30 being building projects and 30 civil engineering structures – with the average value of projects covered totalling approximately €104 million.
In reviewing the feasible investment plans, the two leading voivodeships were found to be Mazoweckie in the east and Pomorskie (or Pomerania) in the north, each with around €12 billion of projects planned.
It was recently reported by Construction Europe, that the Pomeranian region has been selected as the location of the country's first nuclear power station, but Poland's first offshore windfarms will also be sited there.
The Spectis report also found that, with a number of eastern regions seeing solid economic growth, significant road projects are planned.
The report highlights that, while growth in the Polish construction market is forecast to slow, many of the country's regions are attracting investment for their civil engineering and building projects.