Rescue for mining excavator
By Ian Vallely21 October 2016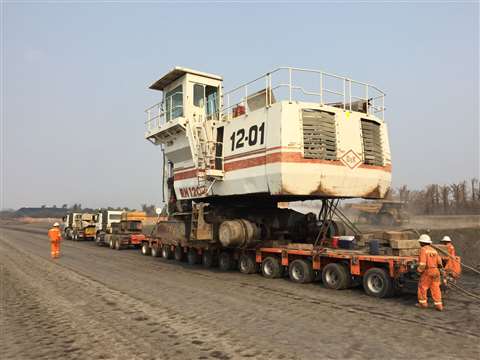 Collecting an old front shovel excavator from ground between the Mine Hatillo and La Francia in northern Colombia could hardly have been more challenging. The engine of the O&K RH 120-E mining excavator could not be repaired on site and the tracks were missing, leaving the 250 tonne monster stranded on top of a pile of earth.
The mining company turned to heavy haulage specialist Boom Logistics to collect the excavator and transport it to the repair shop 22 kilometres away with the help of a 12-axle THP/SL heavy duty combination from German manufacturer Goldhofer.
Extensive preparations were needed for loading the axle lines because of the difference in height between the mining excavator and the transport system. As a first step, the earth had to be extracted from underneath the excavator to create enough space for the heavy duty transport module to be manoeuvred into place ready to take the load.
When enough material had been removed, the excavator was left standing with just the wheel hubs sitting on the earth, while the rest of the pile had all but disappeared.
The next step was to position the Goldhofer THP/SL underneath the excavator and use the hydraulic suspension stroke to take the load. With the excavator safely loaded, the remaining earth was removed on either side so that the heavy duty module was left standing free.
A dump truck and a pusher then manoeuvred the transporter with its load across the uneven ground to the road, where two tractors were waiting to tow the mining excavator to the Calenturitas de Prodeco repair shop. There it was unloaded the following day and subsequently repaired.