Retirement and reorganisation at IPAF
By Euan Youdale08 August 2013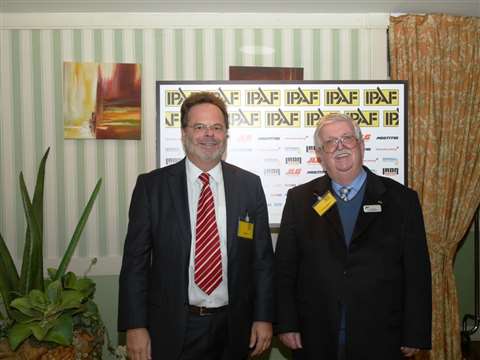 The International Powered Access Federation (IPAF) has announced staffing changes for Latin America and southern Europe, including the retirement of Italy country manager Gerhard Hillebrand.
Under the reorganisation, Romina Vanzi will take on an expanded role as territory manager for non-English speaking regions and mast climbing work platforms (MCWPs).
Previously based in Chile, Ms Vanzi will be based in the IPAF Basel office in Switzerland starting from September 2013. She will supervise and coordinate IPAF's operations in Latin America and the Iberian Peninsula as she has been doing since 2011.
In addition, she will supervise and coordinate IPAF's operations in Italy, working together with the IPAF Italia team. She will also be responsible for developing structures to provide enhanced support and communication to IPAF country representatives, and for developing support and services for IPAF's MCWP members worldwide.
Hillebrand retires
Gerhard Hillebrand, country manager for Italy and Italian-speaking regions, will retire in April 2014. He is a well-respected industry veteran with a long career dating back to 1953. He held various sales and marketing management positions with leading international manufacturers and distributors in the earthmoving, crane and powered access industries, including: Link Belt, Coles Cranes, JLG, Grove and Locatelli.
Mr Hillebrand then went on to become a majority partner and managing director of a family-owned export company for Italian truck-mounted industrial and firefighting aerial work platforms and mobile cranes, representing: Cella, Rigo, Locatelli and Bencini.
He has been IPAF's representative in Italy since 2004 and has led the Federation's operations successfully through a period of high growth and constant change, it said. In 2012, Mr Hillebrand was honoured with a Lifetime Achievement Award at the International Awards for Powered Access (IAPAs) in Rome, in recognition of his long-standing role as a nurturer and guiding hand to all those in the powered access industry.
"Many will share my admiration for all the hard work, enthusiasm and imagination that Gerhard has brought to IPAF in the 10 years that he has been working with the Federation," said IPAF CEO Tim Whiteman.
"Naturally Gerhard's departure leaves a big challenge for IPAF and we are taking measures to ensure that our members in Italy, and elsewhere, continue to receive the support and leadership that they have become accustomed to. We have an excellent team in Italy who we will rely on to take additional responsibilities."
The Federation has also announced that Antonio Barbosa, country manager for Brazil, will be responsible for all IPAF operations in Latin America from 1 January 2014.
José Manuel Mayo will continue to serve as country representative for Spain, covering all IPAF operations and auditing in the country, while Filipa Sanches will continue in her role as country representative for Portugal, and will continue to provide assistance to IPAF members and training centres in Latin America and Spain.