Rhodar wins tower block contract
By Steve Ducker22 August 2018
Rhodar, a leading specialist enabling works provider, has won a high-profile competitive tender process that will see it demolish three 18-storey tower blocks that have stood empty for over 10 years.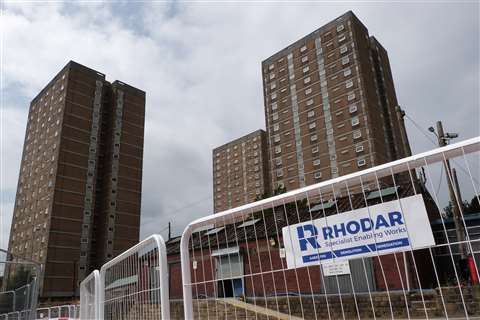 As part of plans to regenerate a key area of the town of Halifax in the north of England, Rhodar has been appointed by Together Housing Group, one of the country's largest social landlords, to clear the Beech Hill estate site.
Up to 80 people are scheduled to work on the internal strip out and subsequent top down deconstruction of the tower blocks, along with a 65 m (213 ft) super high reach excavator, of which only a small number exist in the United Kingdom. The excavator will remove approximately 10 storeys from each block, allowing further high reach kit to demolish the remaining structures.
Four excavators ranging from 21 to 40 t will be on hand to process materials and the existing concrete and rubble will be recycled on site into a specific engineered fill material that will be used to create a development platform for the next level of regeneration.
Rhodar says this will contribute to a significantly reduced carbon footprint by minimising vehicle movements in and around the project area. The company will also use special water jets attached directly to the demolition equipment in addition to state-of-the-art mist cannons to mitigate dust migration generated from the works.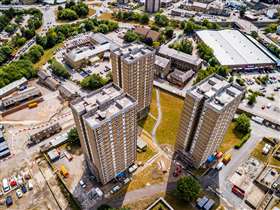 The £6 million (US$8 million) project win coincided with the company's recent rebrand, which showcases its ability to offer asbestos removal, demolition and remediation services.
"This is an important milestone for our business," said managing director Jason Davy.
"It is extremely rewarding for our teams to be working on such a prestigious and high-profile regeneration scheme."
The site clearance is expected to take around 16 months, with main demolition works starting in January.