Ridgway invests £12m in Komatsu machines
By Leila Steed06 December 2019
UK-based Ridgway Rentals has updated its rental fleet, investing £12 million in 130 new Komatsu machines.
The order was placed with Marubeni-Komatsu and included a range of 2.5 to 50 tonne excavators, bulldozers and loading shovels.
Tim Jones, Chairman at Ridgway Rentals, said, "Our focus on this latest investment has been on updating our fleet with highly efficient, environmentally friendly equipment."
Ridgway said it had experienced a rise in demand, particularly from environmental agencies and from the waste and recycling industry.
As a result, Ridgway's order included specialist machines such as loading shovels with solid tyres, high-tip buckets and fire suppression equipment to fulfil the requirements of waste and recycling customers.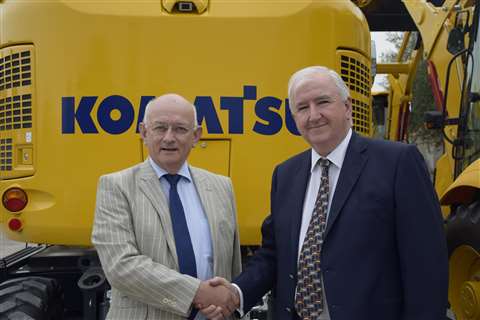 A number of super long-front excavators with reaches of up to 22m were also included in the order. These came supplied with the CE certification and lifting charts required from environment agency work.
Ridgway Rentals Managing Director, Stuart Jones, said, "Supplying machines that match our customers exact requirements is vital for this industry with so many strict health and safety obligations to adhere to."