Ritchie Bros reports surge in online bidding
Auctioneer Ritchie Bros said it is seeing unprecedented online participation in its auctions as it adopts an online-only policy during the Covid-19 pandemic.
Three of its European auctions in March – in France, the UK and Germany - were held as online 'timed auctions' with multiple days of bidding and auctions closing on a set day and time. The auctions saw more than 5300 items sold on behalf of 460 owners, with 6200 registered bidders.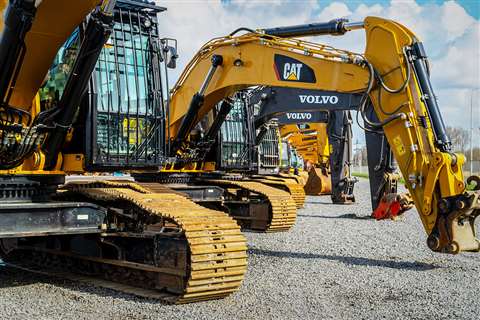 The auction at Meppen, Germany, "smashed" the record for online bidders, with a 40% increase to 2920 compared to the same auction in March 2019.
"March auctions have shown massive online participation from all over the world and achieved strong selling prices," said Jeroen Rijk, Managing Director at Ritchie Bros.
"Although it's strange and uncertain times for our industry, there's still a lot of projects around the world being carried out. Businesses are looking for places where they can safely buy equipment that is quickly available to them."
Limited access to sites to view equipment is allowed, subject to local regulations and guidance on social distancing and lockdowns.
Online bidding is not new to Ritchie Bros' business, with almost 80% of its winning bids now placed via the website or its auction App. The company reports that website visits and new web account creations have increased by 15% and 19% respectively, year-on-year, while use of the mobile App is up 90%.
Notable sales at the March auctions included a Caterpillar 320EL excavator sold at the Gaillon, France, auction for €83,000 to a bidder from Austria. Meanwhile in the UK, the auction at Maltby saw a Volvo EC220EL excavator sold for €56000 to a bidder from Poland.
The Meppen auction in Germany is traditionally strong for agricultural equipment. "We saw exceptional levels of participation at our Meppen auction", said Rijk, "The auctions reflect what is happening in the market. The high consumer demand for farming products during lockdown may mean many farmers are bolstering equipment fleets to keep operations running."
One business that has recently used an online Ritchie Bros auction is Netherlands earthmoving and contracting company Kloosterman BV.
"We usually have a pretty good idea what the selling price will be at a regular Ritchie Bros. onsite auction," said Jan Kees Kloosterman.
"Initially I was a bit hesitant now with the coronavirus, but we saw a strong international participation with the online-only auction, and it helped us get good results. We immediately added more equipment items to another auction in April."