Ritchie Bros. to host auction in Moerdijk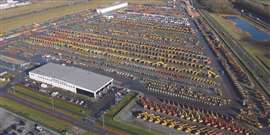 Ritchie Bros. is to host a live in-person auction at its Moerdijk facilities in the Netherlands for the first time in three years.
Taking place between the 10 and 12 of October, the Moerdijk Live Xperience respresents the first time an in-person event has been held by Ritchie Bros. in Moerdijk since it moved to online events during to the pandemic. 
The company said the auction will feature "thousands of lots" covering hydraulic and mini excavators, wheel loaders, telescopic forklifts and compactors, with in-person and online bidding accepted.
The afternoon of day one will also see an additional auction take place that will feature equipment from Irish quarrying contractor McCabe Earthworks. 
At the same time, Ritchie Bros. will host an insights session with industry experts on October 10. The company said the session will feature presentations and panel discussions covering the biggest trends impacting the European heavy equipment industry. 
Speakers include Sebastian Popp, economic affairs manager of CECE, Chris Sleight, managing director of Off-Highway Research and Alex Schuessler, founder and president of SmartEquip. 
Meanwhile, a mini tradeshow will be held on the first and second day of the event, with "various solutions and services" set to be presented to visitors. 
Moerdijk Live Xperience timetable
Tuesday October 10 (auction day 1)
Live auction starting at 9 AM (with online and onsite bidding)
Timed Auctions
MLX Insights Session with industry expert speakers (starting at 2 PM CET)
Mini tradeshow presenting various solutions and services
Wednesday October 11 (auction day 2)
Live auction starting at 9 AM (with online and onsite bidding)
Mini tradeshow presenting various solutions and services
Timed Auctions
Thursday October 12 (auction day 3)