Road building: Repair, rebuild, construct
By Jenny Lescohier04 March 2020
Infrastructure is aging rapidly in every corner of the world, necessitating extensive repairs and reconstruction, not to mention large-scale new projects. With so much work to be done, roadbuilding equipment must be up to the challenge, and part of that centers on ease of operation as well as intelligent features that ensure high performance and quality results.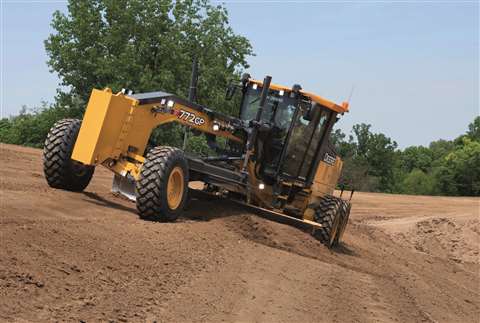 Like every facet of construction, technology is having a significant impact on roadbuilding equipment and methods. What was once thought of as high-tech or extra is now becoming a must-have, in part because of the shortage of skilled workers in construction, and OEMs (Original Equipment Manufacturers) are responding to these expectations.
"The labour market shortage continues to be a concern," said Ryan Layton, production system manager, John Deere. "Our customers are having to manage busy work schedules while also attracting and retaining skilled employees from a short supply. As a manufacturer, we need to provide our customers with a solution to help manage this challenge. One of those solutions is the continuing investment and leadership in technology, such as grade control.
"Technology helps to minimise the learning curve for new operators, making operation easier," he added. "Grade control solutions, like John Deere SmartGrade, help operators of any skill level to optimise machine performance and production. For that reason, more customers are choosing grade control-equipped machines, and OEMs are offering more factory integrated solutions based on this demand."
Clear and excavate
The roadbuilding process begins with clearing and excavating, and what better machines for that than dozers, excavators and motor graders.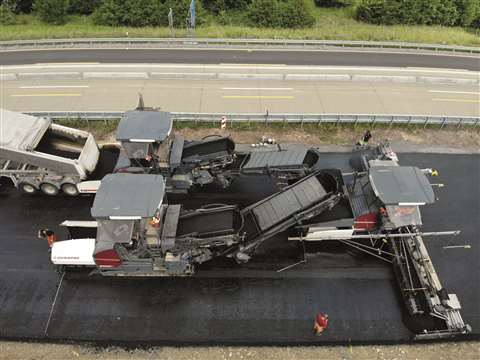 "Our reduced tail swing excavators are ideal for handling a number of jobs efficiently in tight spaces, as is common in roadbuilding, allowing road builders to only close down one lane of traffic," Layton explains.
"Our 950K dozer with the industry's largest PAT blade and SmartGrade is a great solution to move a lot of dirt quickly and accurately. We also recently introduced our motor grader, which has SmartGrade fully integrated, providing a mastless system for fine grading."
John Deere's larger machines come standard with its telematics platform, JDLink, which allows customers to see how and where their machine is being used, and any potential service issues that may impact uptime.
"With this feature, the dealer can be more proactive, as they can remotely monitor machines through the tools. They then have the information needed to act quickly to avoid or reduce machine downtime," said Layton.
"John Deere Connected Support creates better collaboration between John Deere and our dealers that work tirelessly to monitor equipment, improving uptime. This allows customers to become more profitable and reduces potential delays to construction project schedules."
Regarding cost reduction, Doosan Infracore North America, has expanded its crawler excavator lineup with the new DX170LC-5 excavator. The 17-metric-ton model falls below the 80,000-lb. gross vehicle weight rating limit for less expensive transportation in the US.
The new excavator size allows for easier transportation, especially for small to mid-size contractors who perform light excavation projects. This model reduces the need to obtain a special transport permit when moving to and from jobsites.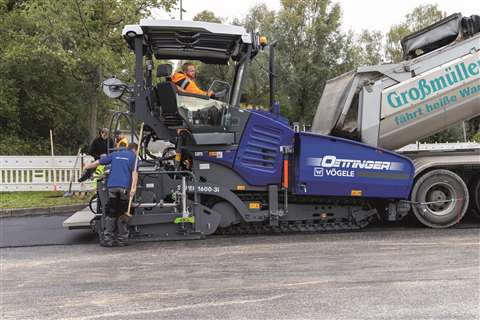 "Load ratings vary, so owners still need to check federal, state and local laws and regulations regarding weight, width, length and height of a load before making preparations to transport their machine on public roads, bridges, highways and interstates," says Aaron Kleingartner, Doosan Infracore North America marketing manager.
The DX170LC-5 excavator is a step up from the smaller Doosan DX140LC-5 and DX140LCR-5 models, but it's not as large as the DX180LC-5.
"We felt it was very important to offer a model in this size class to ensure our excavating customers could minimise transportation costs, while retaining the performance they expect from Doosan excavators," adds Kleingartner.
Road building compaction satisfaction
Reducing operating costs and improving profitability are top priorities throughout construction and OEMs are working to help equipment owners and operators achieve their goals to that end.
According to Klára Entlerová, MarCom specialist for heavy compaction at Ammann, today's equipment is expected to offer maximum performance with high-quality results, all while being comfortable for the operator to use and environmentally friendly as well.
Ammann compaction machines – which include heavy asphalt and soil compactors, as well as light equipment such as rammers, vibratory plates, add-on compactors and trench rollers – utilise intelligent technology to ensure all goals are met.
One key technological advance is said to be Ammann Compaction Expert (ACE), which helps operators confirm that compaction has been achieved before moving onto another area of the jobsite.
ACE is available on soil and asphalt compactors and generally used on large projects where quality goals are essential, such as airport and highway construction.
"ACE helps business owners reduce operating costs and ultimately improve their profitability," explains Entlerová.
"It improves quality by verifying compaction goals have been met and by preventing over compaction. The system guarantees time is spent compacting the areas that need attention and moving beyond the spots that don't. This puts an end to unnecessary passes of the machines, resulting in savings on labour, fuel and machine wear."
ACE is also available on smaller compaction machines, too. That includes Ammann APH and APR Vibratory Plate Compactors, APA Add-On Compactors and ARR Trench Rollers – it is modified based on the type and size of the machine.
New technology in road construction

Construction machines are being built that are simpler to manage, because that's what customers expect and that's what allows performance and productivity. The new 2.5m based P8820D ABG paver from Volvo Construction Equipment (Volvo CE), for example, features the Electronic Paver Management (EPM3) system that allows the operator full control.
All buttons are consolidated into the control system and arranged for ease of operation – with backlighting for night shifts. The EPM3 features integrated functions such as a settings manager, which stores customised settings for individual projects to ensure consistent paving quality from job to job and a service interval manager which alerts the operator to required or scheduled maintenance.
Powered by the optional Volvo Co-Pilot, Pave Assist provides a set of digital tools, including a Material Manager, Thermal Profiling and Weather View, which are all designed to make the operator's life easier, document the paving process and enhance mat quality.
Paving efficiency is also, according to the company, enhanced with the optional Smart Dock – remote controlled light bars that provide visual signals to the tipper driver to ensure they approach and unload into the paver hopper in the safest and most effective way possible. This should result in fewer interruptions to material supply, reduced material spillage and a more consistent mat quality.
Intelligent road paver

Having all the equipment extras in the world don't mean a thing though if the operator doesn't want to use them. Simplicity and ease of use are hugely significant in equipment performance and operator productivity.
For its part, Dynapac's new F1250C paver replaces the F1200C and features the next level of control systems for compact pavers offering enhanced operator and machine control. The overall upgrades include a higher power engine (from 67 to 74 HP) and newly developed auger and track systems. The new operator dashboard includes integrated electric screed heat control. Additionally, the F1250C will be featured with the latest wireless remote control technology further enhancing the operating experience.
Another key feature of the F1250 paver is the new Front Extension VF240VE Screed. The VF240VE with hydraulic extensions has a basic paving width of 3.88 to 7.33 feet. The extensions are mounted in front of the main screed to quickly react to a change in paving width conditions.
One of the industry leaders in this sector is Vo¨gele, with the company's pavers used on a wide array of projects. The Super 1800-3i, and the somewhat more compact Super 1600-3i, were used on two jobs in southern Germany.
On the rehabilitation of an urban road in Karlsruhe, the newly formed paving team were eager to see the Super 1600-3i make its debut with the AB 500 TV Extending Screed. It was the first asphalt job site that the contractor Oettinger GmbH had ever handled.
On their first job, the paving team laid down a binder and a surface course on a short section of urban road, paving across a width that varied between 3.5m and 3.8m.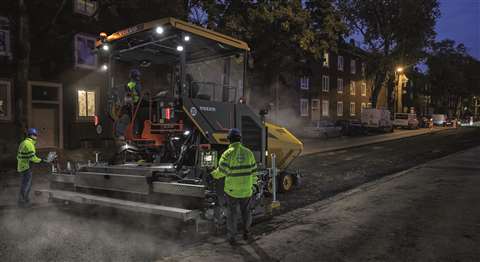 The Vo¨gele Universal Class pavers feature ErgoPlus 3 which encompasses the operator's platform as well as the paver and screed operator's consoles and incorporates Niveltronic Plus, the Vo¨gele System for Automated Grade and Slope Control.
According to Vo¨gele literature, the consoles are arranged logically and feature push-buttons for frequently required functions. Operators can feel when the push-buttons have been pressed, even when wearing work gloves. Settings that are made less frequently can be called up and altered in the menu of the colour display.
High-precision paving was required, even on the team's very first job. An accuracy of ± 4mm had been specified. The Oettinger GmbH paving team opted to use two Vogele multi-cell sonic sensors in order to meet this requirement. The non-contacting sensors scanned the base as a reference. This is the sort of system that would have been deemed as next-generation and high-technology not too long ago; now it is becoming expected by those working in this industry.
Elsewhere, a series of 167 improvements are currently underway around the southern ring road of the Finnish city of Lahti. One of the main contractors for the project, Skanska, has added a new tool to its armoury in making the work as efficient, cost effective and environmentally friendly as possible.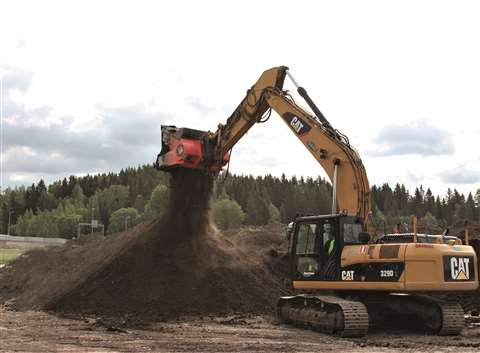 Allu DN Series Transformers each consist of an attachment which screens, crushes, aerates, blends, mixes, separates, feeds and loads materials. This results in the feed material being effectively transformed into highly valuable products, making operations on the project more efficient and profitable.
As part of its work on the ring road project, Skanska Infra Oy is responsible for landscaping and constructing road slopes, embankments and noise barriers.
To this end, the use of an Allu DN 3-17 X75 screener crusher has been pivotal on the ground works and landscaping operation. Following excavation, the material is collected and its usability analysed, then screened and mixed using the Transformer to provide a smooth soil mixture.
After that, the ready-to-use soil is spread where it is required, ready for planting. The use of the Allu Transformers sees material being reused from excavation operations, with no requirement to buy or transport extra material from outside the project.
When complete, the southern ring road around Lahti (Finnish national road 12) promises to boost the area's economy through improvements to the general traffic flow as well as improve vital links to St. Petersburg in Russia that are vital to Finnish industry.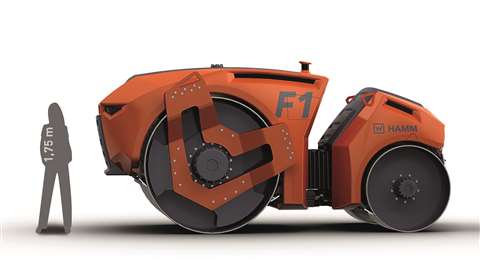 Prizes for Hamm
German-based Hamm has been awarded a design prize for their 'Autonomous Roller F1' a study on autonomously operating rollers, the German Design Award Gold 2019.
The study shows that the autonomous roller of the future could be equipped with markedly larger drums – a substantial advantage in terms of compaction quality.
The novel design also leads to greater water carrying capacity and plenty of space for future-orientated drive concepts. Moreover, the design opens up new opportunities for aspects such as transport and ballasting.
"The systematic integration of product designers in the development process was totally unprecedented in our sector in the 1990s," said Gottfried Beer, head of marketing, Hamm.
"Since then, design has been an integral part of the development strategy at Hamm. In this way, we are engendering our rollers with 'Hamm-DNA' as a result of which the ergonomics, functionality and aesthetics are in perfect harmony."
Renovation for Formula 1 track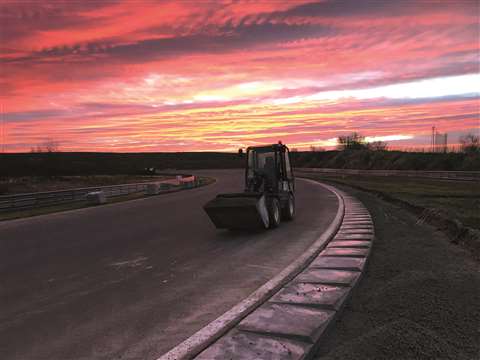 After 35 years, Formula 1 returns to Circuit Zandvoort for the F1 Dutch Grand Prix. Before the first training sessions start in early May, the circuit must be thoroughly renovated, and that's where Giant wheeled loaders come into play.
In November last year, a start was made on replacing and widening the current circuit. In addition, a new paddock area and medical center will be released. The infrastructure is also being adjusted to steer the 200,000 attending fans in the right direction.
To make the 4.3km circuit challenging, various new curves are being laid. Paving contractor Schuurman Bestrating BV uses two Giants for the installation of line gutters and curb stones, a V452T X-TRA HD and D332SWT X-TRA.
For owner Michael Schuurman, this is a special assignment as he is regularly found with his own racing car at Circuit Zandvoort.
Schuurman said, "We use the V452 X-TRA HD for supplying the spoil and curb stones, and both D332SWT X-TRA and V452T X-TRA HD are used for positioning. When we are finished, the new layer of asphalt can be applied and after the renovation, the curb stones will get a striking colour."
The renovation of Circuit Zandvoort is planned to be finished at the end of February.