Road construction has become an evolving journey
By Ian Cameron30 June 2021
Many towns and cities are considering infrastructure projects as new technology develops
One of the many impacts of Covid-19 is that governments around the world are looking to the future of their towns, cities and surrounding infrastructure and examining how to make them less polluted and more productive.
They are asking what these changes might mean for their infrastructure needs, how different this might be in a future where, for example, more people than ever are working from home.
Brian Kent, the national technical director at UK-based Tarmac — a construction materials, road contracting and building products company — believes there are challenges to this ambition, not least in a lack of budgets.
He claims that, while most of tomorrow's urban infrastructure is already in place: "There is a need to rethink the way we do things here and now.
"For local authority highways teams, in particular, there is a need to find a way to adopt innovation faster and to overcome the historical handcuffs of specification barriers.
"These very barriers stifle the opportunity to use now proven non-standard surfacing materials, which have demonstrated their ability to deliver improved environmental and social outcomes.
"Warm Mix Asphalt (WMA) is the prime example. This technology reduces the embodied carbon of asphalt compared to conventional hot mixes and its carbon footprint can be reduced by as much as 15%.
"The material also delivers health and safety benefits for the workforce. For each 10 degrees reduction in temperature, there is a halving in the fumes produced.
"Additionally, there is a boost to productivity within a working window due to the reduction in the time needed to cool to a trafficking temperature, allowing for a significantly earlier overlay, thereby ensuring work can be completed earlier."
WMA is manufactured and supplied at lower temperatures than conventional Hot Mix Asphalt (HXA). They are also said to deliver a range of safety and productivity benefits with no compromise on performance.
According to Kent, that while there has been some adoption of this material technology there is also reluctance — despite reducing carbon emissions being a key global target.
Kent, who pointed out that there is a similar reticence to incorporate single-layer surfacing technologies, added: "Many of the solutions and treatments that can help our industry make more sustainable choices are available now. and have been for many years. In other words, the solutions are not always new."
Reduced temperature asphalt
Of course, not all of those awarding construction contracts are reluctant to implement new technology.
Work on a new road tunnel in the German city of Karlsruhe has been completed using reduced-temperature asphalt and equipment from VÖGELE and HAMM.
Part of a major redevelopment of the city centre, works for the Karlsruhe tunnel were commissioned by the local authority responsible for maintaining the city's infrastructure.
The contract for the project was awarded to a consortium made up of general contractor Schleith and engineering firm ZÜBLIN, which subcontracted asphalt specialist Martin Paschmann Asphaltbau (MPA) to carry out the paving works.
Due to strict emissions regulations, MPA was only allowed to use equipment fitted with diesel particulate filters and had to use low-temperature asphalt.
Wirtgen, the parent company of VÖGELE and HAMM, explained: "The temperature of the material is roughly 30°C below that of hot asphalts and its use helps to lower the pollution from vapours, emissions and high temperatures that workers are exposed to."
Christian Riede, an engineer and senior construction manager at Schleith, said: "Paving reduced-temperature asphalt is still new to a lot of people, so there is a lack of experience-based values — especially with regard to material characteristics during compaction, which was why we continuously checked density using an isotope probe.
"Both the measurements and the laboratory examinations carried out subsequently confirmed that we produced a high-quality, homogeneously compacted carriageway using VÖGELE pavers and HAMM rollers."
MPA used two VÖGELE SUPER 1800-3i pavers and three HAMM rollers to pave two separate tunnel bores, measuring 5.3m and 6.8m wide with the low-temperature asphalt. The roller models included the DV+ 90i VT-S-type combination roller, the DV+ 70i VV-S tandem roller and the HD 14i VO compact roller.
The company's paving team used special waxes to compact the mix, which hardens when it reaches a critical temperature.
According to Wirtgen, this meant that the rollers needed to work close to the paver in short, regular runs and that MPA had to make sure the equipment train moved steadily to allow its operatives to compact the asphalt as quickly and smoothly as possible.
Trending towards smaller machines
Change within the road construction industry is also a likely consequence of the impact of Covid-19, according to Paul Johnson, director road machinery for the Europe Middle East and Africa division at Volvo Construction Equipment.
Johnson is adamant that the sector has proved resilient and that, in many countries, infrastructure has been identified as a key industry that must remain open.
He explained that working practices have had to change to be Covid-19 safe, not only on the jobsite but in the supply and maintenance of the equipment being used, which has caused some delays.
Johnson said: "In the medium-term we are positive about the outlook, thanks in part to the number of projects that have been agreed and funded well in advance.
"Covid-19 has meant many contractors are taking a closer look at the technology available to them to allow workers to stay away from the jobsite, wherever possible, and let the machines and software do the work."
As an example of new technology, Johnson cited the company's Volvo Co-Pilot, onboard computer and display. This can record distance, width and tonnage laid by the paver without operators having to physically work this out themselves. Volvo Co-Pilot is part of the company's growing connectivity software that allows for greater digitalisation of the jobsite.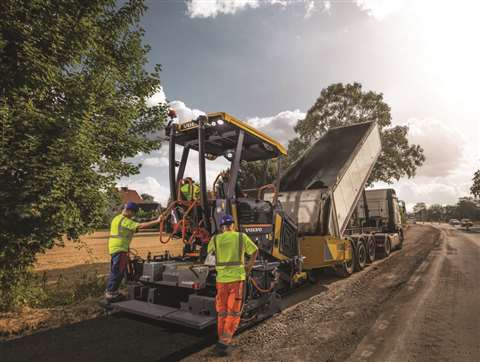 Johnson believes that there will be a change in equipment preferences: "Long-term we believe we will see a trend for smaller machines to carry out city work and maintenance, thanks to a likely increase in car-free mobility accelerated by Covid-19.
"More and more people are now seeing the advantage of walking, scooting or cycling for short trips. Rather than using their own cars, and transport routes are likely to be repurposed for safer and easier access.
"We remain optimistic in our outlook as infrastructure remains a top priority for many countries, especially those whose road networks are in need of maintenance and repair which cannot be put off indefinitely.
"In addition, infrastructure improvement is a great way to restart economies by investing in something that provides benefits for many years to come."
Roads that are subject to heavy use and extreme weather conditions often need repairing, but this is also the case when so-called natural disasters hit.
Two CASE excavators were recently used to rebuild and strengthen a road in the aftermath of a landslide at Bocca Trabaria, the highest pass between Marche and Umbria in northern Italy.
The road that travels through the pass was opened by the papal government between 1822 and 1830, which had recently been affected due to a landslide. Almost unbelievably, during the restoration work the crew unearthed an old bomb dating back to World War II, which resulted in keeping the pass closed even longer until it was removed.
A second landslide caused the pass to close again at the end of October 2020. The Italian National Autonomous Company of State Roads (ANAS), a government-owned organisation with responsibilities for construction and maintenance of Italian Motorways. ANAS entrusted the clear up of the landslide slope and the subsequent reconstruction of the road to Pretelli Srl of Urbino. The project was completed in April 2021.
Covid-19 hits US road funds
The Covid-19 crisis has globally led to a reduction in the number of drivers making journeys, partly down to the enforced increase in homeworking.
This has particularly hit revenue from toll bridges and fuel taxes, an important source of funds for road infrastructure work, in the America. However, it is reported that numbers are now returning to normal levels in some States.
Several States delayed non-essential road infrastructure plans, due to a shortage in income, with some industry trade organisations calling for central funding for State projects.
Analysis from the American Road & Transportation Builders Association (ARTBA) revealed a gloomy picture despite US President Joe Biden's pledge to invest in a new infrastructure.
More than 220,000 US bridges need major repair work or should be replaced, a figure that represents 36% of all US bridges, according to ARTBA's analysis of the US Department of Transportation's 2020 National Bridge Inventory (NBI) database.
ARTBA chief economist Dr. Alison Premo Black explained: "The current 40-year timeline to repair bridges in poor condition is an unacceptable outcome for the American motoring public.
"The bridge conditions report highlights key national infrastructure challenges and underscores the need for congressional action this year on a robust multi-year transportation investment bill."
Many roads wind around the hills, resulting in sharp turns and corners, in the US State of Ohio. While an average vehicle doesn't have an issue navigating them, the same cannot be said for large trucks and trailers.
The turning radius on oversized, multiple-axle vehicles like oil and gas trucks doesn't mix well with the curvy roads, causing them to frequently end up with their wheels in the ditch. Over time, this repetition causes dangerous drop-offs on the outside corner of the paved roads.
To address this the Ohio Department of Transportation (ODOT) is seeking new approaches and solutions to increase safety on the State's roadways.
Traditionally, widening a road with compacted material involves a four-step process: lay the material; use a blade to move the material into place; compact the material with the tyres of a dump truck, and; broom sweep and clean up. With the ODOT interested in limiting the number of steps in their approach.
Rick Venham, transportation administrator of Washington County in Ohio's District 10, enthused: "One of my highway technicians presented the idea of an offset road widening attachment.
"The guys who work on the projects and actually operate the equipment bring the best ideas, and this case was no different."
Road teams attach the equipment to a host machine, such as a skid steer, compact track loader or grader to disperse asphalt, gravel and topsoil. Using it results in increased efficiency, reduced labour and decreased costs.
As the attachment is smaller than traditional road widening products, it is more cost effective and offers higher maneuverability.
This combination of benefits impacted the ODOT's decision-making process, as they were searching for a solution that offered ease of use with a low cost-per-ton ratio when laying asphalt.
From one continent to another with news about a project in Africa where road construction is on the rise. Spanish company Moldtech claims that the amount of infrastructure schemes in Africa is increasing, especially road construction.
The Sevilla-based firm has carried out several projects in West African countries, and it is participating in a project related to the Mombasa ring road in Kenya.
This scheme, which boasts Japanese funding, included the construction of motorway bridges using AASTHO Type IV and AASTHO Type VI pre-casted and post-tensioned girders. The AASTHO Type IV girders have a length of approximately 30m and weigh 48 tons (43.5 tonnes), whereas the AASTHO Type VI come in a length of approximately 40m and a weight of 81 tons (73.4 tonnes).
Moldtech stated that it came up with a customised design, which included a cambered casting bed and special arrangement to make the mould compatible with the post-tensioning operations.