Roadbuilding: Keeping things rolling
Due to the rapid increase in heavy-duty transport, the global road network is showing visible signs of age in many places.
In order to keep things moving, road rehabilitation projects all need to meet the same requirements, regardless of where they are being carried out; in other words, they must be cost-effective, environmentally-friendly where possible, and above all, finished quickly.
At the recent Bauma exhibition in Munich, Germany, more than 100 Ammann products were on display, including many new offerings, with the company also marking its 150th anniversary.
Among the products and services showcased were light equipment, specifically a new line of hydrostatic vibratory plate compactors, which will replace the current line of machines. Key features include technology for advanced compaction and the triple-shaft exciter system, which keeps plate movement consistent and enables smooth travel.
A new line of reversible vibratory plate compactors was also presented. The plates incorporate a low-vibration handle to help keep operators fresh, comfortable and productive.
Regarding compaction machines, the ARX 91 articulated tandem roller, which Ammann says utilises high compaction output to make quick work of thick or thin asphalt layers in fewer passes, was at the show. The output is provided through a combination of drum dimensions, frequencies and amplitudes.
The ART 280 hydrostatic tyred roller is available with engines that meet varied emissions levels. Ammann's modular, easy-load ballasting system enables the machine weight to be adjusted from 9 tonnes to 28 tonnes in an hour, with the help of a forklift.
Compact technology
The new series of ARX light tandem rollers are said to make it even easier for operators to work next to obstructions such as curbs.
The ARS 122 T3 soil compactor incorporates a Cummins BS-III engine, equivalent to a Tier 3. The ARS line features Ammann's no-rear-axle concept.
The ARP 95 ST5 pivot-steer roller has a redesigned main frame that enables the machine to work as wide as 3,070 mm when in an offset configuration. This, says Ammann is the widest working width of a roller of its size on the market.
Concrete and asphalt products were also on display. These include the ABC ValueTec asphalt-mixing plants, the transport-optimised CBT 130 TB Elba concrete-mixing plant and the RSS 120-M shredder, iron separator and screen, a mobile machine that prepares recycled asphalt for use in an asphalt-mixing plant.
Benninghoven recently presented its new ECO system concept. The capacities of the Type ECO asphalt mixing plants will now range from 100 to 320 t/h, combining state-of-the-art batching plant technologies and a high standard of manufacturing in compact container sizes. This is said to ensure maximum mobility and flexibility. Type ECO systems can be operated as stationary systems but can also, says Benninghoven, handle rapid location changes.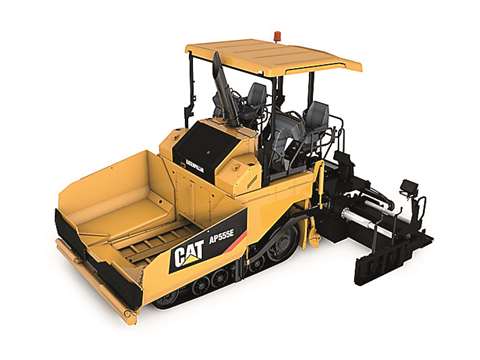 The modular design of the ECO series also allows various high-tech components to be integrated at a later date. In this way, operating companies can react to future customer and market requirements – particularly when it comes to solutions for asphalt recycling.
The flexibility of the ECO series stems from the fact that these asphalt mixing plants are transportable and all of the main components are designed for simple transportation in ISO standard container dimensions. At its maximum 320 t/h of output, the ECO plant can supply pavers with enough asphalt for major projects such as motorway construction.
As in many sectors of the construction industry, interest in autonomous machine concepts is growing in the road construction arena, both from manufacturers and their contracting customers.
Mr Unger, president of the Fayat Road Equipment division, said, "We see three main trends driving the industry: autonomous machines; lowering emissions, for example through alternative drive systems and digitalisation, specifically on planning and documentation of jobsites; but also in operator assistance systems to improve both the quality of work and also the safety of the jobsite. The Fayat group is presenting solutions for all of these."
Roll on the future
Bomag – part of the Fayat group – has developed new innovations that look towards the future of roadbuilding and automation.
The Robomag BW 154, a fully autonomous tandem roller for asphalt compaction. Based on geo-fencing (the creation of virtual working perimeters for real-world geographic areas) and GPS data, it can autonomously compact a pre-planned area. It includes Bomag's Asphalt Manager technology for achieving optimal compaction results and documenting these. It also contains sensors for obstacle detection to improve safety.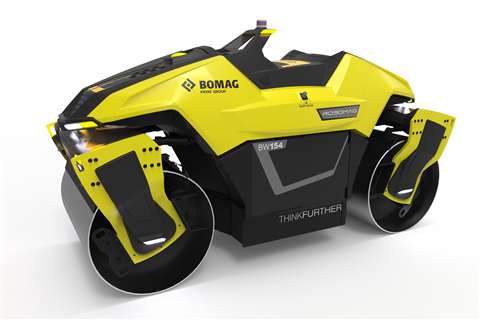 Bomag also demonstrated three alternative drive solutions for the future, anticipating increasingly stringent emissions regulations. The BW 120 light tandem roller will be used as an case in point, to demonstrate the different systems.
The new BM 500/15 and BM 600/15 cold planers were launched at Bauma. Both models are equipped with a 105 kW diesel drive that meets EU Stage V emissions standards and offer milling depths of up to 210 mm.
One particular highlight of these second-generation models is said to be the redesigned workspace. The entire platform is isolated from oscillation and is therefore free from stressful vibrations. All machine functions are accessible from the seat, which can be swivelled by 45°.
During milling of asphalt for road repairs, the milling process releases up to 100 times more fine dust into the atmosphere as the engine of the machine. Bomag has developed IonDustShield technology, for which it received second place in the Bauma Innovation Award.
The company says it has achieved a reduction of over 80% in fine dust emissions from the milling process through ionisation of the dust, which clump together to form a coarse dust.
Caterpillar has developed the AP555F, a mid-sized, rubber track paver for use on highways, streets and other urban work sites.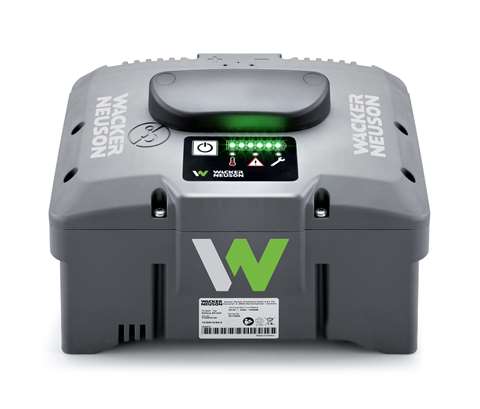 The AP555F features advanced control technology and quick-heating SE50 VT electric screeds that promise to boost productivity of the machine and crew. It features the exclusive Cat Mobil-Trac rubber track undercarriage, which is said to deliver high travel speed, as well as enhanced flotation, traction and mobility.
The machine is powered by a Cat C4.4 ACERT engine that provides 106 kW of energy. Cat says a standard Eco-Mode setting, when used with automatic engine-speed control, manages engine speed for the optimum fuel economy and reduced sound levels.
The machine used on a wide range of projects, the vibratory soil compactor, is represented by Cat models CS12 GC, CS44B, and CS66B. All three models can be equipped with Cat Compaction Control, which provides compaction measurement technology and can also provide satellite mapping.
Caterpillar's new PM310 cold planer was also displayed at Bauma. The new PM 300-Series models are designed for small-to-medium job sites and feature three drum sizes, wheel or track undercarriages, and articulating right-rear leg for right-side flush cutting. Features include advanced controls and system integration, as well as a full range of options.
New capabilities
GOMACO has developed a range of zero-turn capable pavers.
Around the world, contractors face the same job-site challenges, from short runs, tight radius and corners in parking lots, to a multitude of obstacles to pave around. GOMACO's Xtreme curb and gutter machines promise the ability to handle these challenges. The GOMACO pavers can also slipform a 610 mm radius or less.
The new Xtreme three-track Commander IIIx and GOMACO 3300 with GOMACO G+ control machines feature rotary-sensored slew drives on the tracks, sensored leg positioning, as well as independent travel circuits to each track allowing for tight-radius slipforming.
Intelligent All-Track Positioning is accomplished with smart hydraulic cylinders on the three legs which allows G+ to know the position of the tracks at all times.
The Commander IIIx and 3300 feature Tier 4 engines and optimised cooling packages, with G+ controlling the hydraulic fan.
Zero-turn capabilities have also been incorporated into large pavers, such as the new GP4 slipform paver, capable of paving widths up to 12.2 m which made its international exhibition debut at Bauma.
Also available from GOMACO is the GP-2400, the company's smaller, economical slipform paver. Capable of slipforming widths up to 7.4 m, with 2 m of telescoping ability on the left side, its smaller size makes it a popular paver on less expansive projects.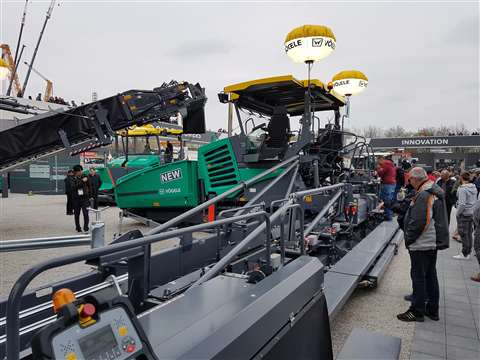 In addition to other products from GOMACO, the Curb Cadet, a mobile and compact curb machine slipforms concrete curb or extrudes asphalt curb from either side of the machine.
Also sharing new innovations in its product segments, Hamm's spectrum ranges from a completely new series of pneumatic tyre rollers and the first tandem roller with true split oscillation drums to numerous new options for earthwork compaction.
The HP series of pneumatic tyre rollers was one of the world premieres. HP series rollers are said to offer drivers simple, intuitive operation and an ergonomically optimised operator's platform. Together with a number of sophisticated details in terms of machine design, the asymmetrical frame provides for excellent compaction and optimal operator visibility.
The HP series pneumatic tyre rollers will be available in various basic versions (HP 180 / HP 180i and HP 280 / HP 280i) with operating weights ranging from 8 tonnes to 28 tonnes. Hamm will supply the models worldwide in accordance with the locally demanded weight classes and equipment variants – taking into account local emissions regulations at all times.
Maintenance-free
Hamm has also created a new split oscillation drum and VIO compaction meter for oscillation. The company says they have also further optimised the drive concept for the oscillation drums, making the next generation of oscillation drums completely maintenance-free.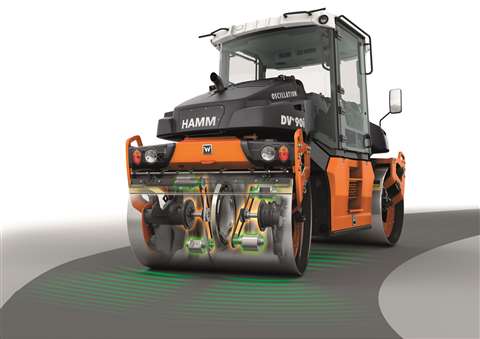 Perfect for compacting challenging surfaces and curved sections; Hamm's patented, split oscillation drum
The new split oscillation drums combine the benefits of oscillation with the added value of a split drum. Oscillation enables these drums to deliver improved results for compaction on bridges – with the ability to work on thinner layers than with previous models – in vibration-sensitive areas or at critical temperatures.
Another division of the Wirtgen group, Vögele, has created a new flagship paver, the Super 3000-3i. The biggest paver in the company's product range, the super 1000i and 1003i compact pavers, the SB 300 and SB 350 fixed-width screeds, and the new functions of the WITOS paving process-management solution.
With a pave width of up to 18 m the Super 3000-3i, boasts a laydown rate of 1,800 tonnes of mix per hour and an engine output of 354 kW.
Not only is it suitable for medium-sized construction projects and the rehabilitation and construction of motorways, but also for paving airport runways, large squares and traffic areas.
To help customers find their way around the large range of different pavers, Vögele restructured their product range at the end of last year, dividing it into two lines – the Classic Line and the Premium Line. Within the lines, the company again differentiates between the previous five classes of mini, compact, universal, highway and special class.
Vögele also presented two highlights from its screed programme, the new SB 300 and SB 350 fixed-width screeds. Both models offer a wide range of user-friendly innovations and the SB 350 supports pave widths of up to 18m.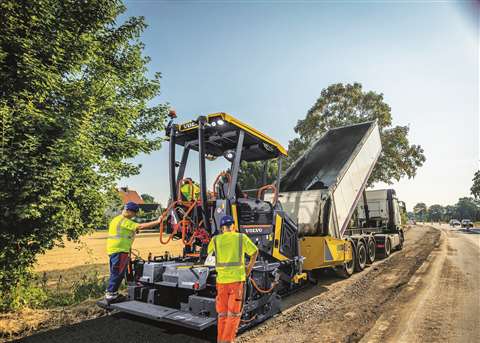 The company has also developed four new products from their classic line; the super 1000i in the tracked version and the super 1003i in the wheeled version, as well as the super 1600 and super 1603.
Volvo CE also has new paver offerings. The P2820D ABG and P2870D ABG are the most compact pavers in the Volvo line-up. Volvo says they are the perfect partners for small-to-medium paving applications, offering low operating cost, safety and operator comfort.
The P2820D ABG and P2870D ABG generate low levels of noise, making them suited to inner-city projects. The new machines also promise low fuel consumption and low CO2 emissions.
With their 55 kW Volvo engines and matched hydraulics, the compact pavers feature the same drive system fitted to larger models.
Wacker Neuson has expanded its portfolio with new battery-powered rammers and vibratory plates. The AS60e battery-powered rammer and the AP2560e battery-powered vibratory plate are the latest additions to the range. Both machines, says Wacker Neuson, are equipped with its proven battery technology.
Emission solutions
Alexander Greschner, CSO of the Wacker Neuson Group, said, "Emissions are set to become an increasingly problematic issue, especially in urban areas. With our zero emission solutions, our customers will definitely be on the safe side. In meeting emission mitigation needs, we also make sure that we only launch a product once we know that it can do an average day's work on a single battery charge and that the equipment will pay for itself in three years or less."
Patchwork repairs do not address the root cause of road damage and are not sustainable in the long term. In order to address this, the Wirtgen brand itself has developed the W 380 CRi cold recycler, which it claims is unbeatable in its class, in terms of performance.
The cold recycling process can remove asphalt in full or in layers, dependent upon the level of damage. This is done by a recycling train operating across the entire width of the pavement in a single pass, mixed with binding agents on site, and then paved again immediately.
With available working widths of 3,200, 3,500 and 3,800 mm, the W 380 CRi recycler mills the road between 100 and 300 mm deep in most applications. At the same time, it granulates the material and transforms it into a new, homogeneous material mixture by adding binding agents such as cement, bitumen emulsion, or foamed bitumen.
With a mixing capacity of up to 800 tonnes/h, the cold recycler can feed large quantities of recycled material to a Vögele paver, via its swivel-mounted and height-adjustable discharge conveyor at the rear. It said this made it possible to complete extremely long stretches of road in a single day of work.