Roadbuilding: On the right road
By Chris Sleight and Sandy Guthrie14 January 2015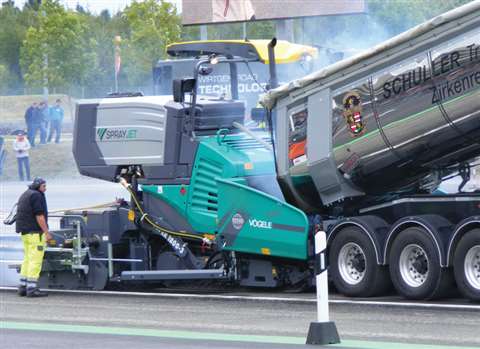 Roads seem to have moved up the agenda recently, with projects announced or underway right across Europe – for example, a number in Poland and big plans just announced in the UK.
Much of the roadbuilding industry is inextricably linked to government policy and to the political will to create new roads and make improvements to existing ones. But overall, it looks like a good business to be in.
The German-based Wirtgen Group expects revenues to hit a record €1.95 billion this year, and its staff numbers are also at their highest ever, at some 6,500.
One reason for this growth is the group's acquisition of a 70% share in asphalt plant maker Benninghoven earlier this year – a company Wirtgen Group co-head Stefan Wirtgen described as a "technology leader."
He added, "This is the perfect addition. It really complements what we have."
Benninghoven has 600 staff and manufactures plants at two locations in Germany. Its range comprises transportable (stationary, but able to be moved from location to location), mobile and semi-mobile asphalt plants.
Expansion move
The addition of Benninghoven to Wirtgen has prompted a slight reorganisation. Wirtgen now distinguishes between its Road Technology products – most of the Wirtgen brand range, along with Vögele pavers and Hamm compactors – and Mineral Technology, comprising the Wirtgen surface miners, Kleemann's crusher and screen range, and the Benninghoven portfolio.
According to Stefan Wirtgen, the reason the company has made this distinction is to provide dedicated support in each of the two areas.
"The idea is that we are specialised," he said, highlighting areas such as sales, service and technical support where the requirements are different between road building and minerals equipment.
And although the acquisition of Benninghoven has added to the group's manufacturing footprint in Germany, there is also a push from Wirtgen for greater internationalisation.
Stefan Wirtgen said, "We are now placing an emphasis on the buildings and activities of our local production. About 50% of sales are in emerging markets."
He added, "This is very challenging for European manufacturers. The world has changed and we simply have to adapt to that."
The group has three production facilities outside Germany – a subsidiary called Ciber in Porto Alegre, Brazil; Wirtgen China, which is in Langfang, near Beijing; and Wirtgen India in the manufacturing hotspot of Pune.
As well as these factories, the Wirtgen Group has some 55 sales and servicing subsidiaries around the world. The group is currently investing to expand these and build new outlets in countries as diverse as Australia, Brazil, Iran, Malaysia and South Africa, among others. Sales through these direct subsidiaries, as opposed to the group's 150 independent dealers and distributors, account for about 75% of revenues.
These facilities are also used for training and servicing of equipment, and group co-head Jürgen Wirtgen said, "We see a trend around the world where more and more contractors have closed down their workshops and rely on suppliers of machines.
"We have found that the more operators we train, the fewer problems we run into."
Latest machines
Wirtgen recently took the wraps off new machines from all three of its road building brands – Hamm, Vögele and Wirtgen.
Hamm launched new H 5I and H 7i soil compactors covering the 4.5 to 8 tonne classes. The rear wheels on these models are now driven by wheel motors instead of an axle. Hamm said this improved climbing ability and increased the ground clearance of the machines.
These have been designed to be compact and easy to operate - the H 7i, for example, is 4.40m long, which Hamm said was the smallest in this weight class. In the cab, meanwhile, the control panel is based on that of the company's HD Compact Line models, and the steering wheel is positioned to give an unobstructed view of the instruments.
Fuel economy has been improved by an automatic engine stop feature which cuts the motor if the machine has been stationary for an extended period.
The two models are due to go into full production at the end of this year, with commercial availability from January 2015.
The DV+ 70i and DV+ 90i tandem rollers are also new from Hamm, and are available as a double vibratory roller (VV), an oscillatory roller (VO – a vibratory and oscillatory drum) and as a combination roller (VT).
The compactors look almost identical from the front and the back, which was part of a design philosophy that extends to the 180° rotating seat, allowing the operator to be comfortable whatever the direction of travel.
A large cab claims good visibility and widened access. The controls are said to have been designed to be ergonomic and intuitive to use, with the most important functions included on an armrest joystick.
Series production of the DV+ is scheduled to start at the beginning of 2015, with availability from the spring.
Improved performance
Wirtgen, meanwhile, has unveiled the W 50 Ri and W 60 Ri, compact milling machines with cutting widths of 500mm and 600mm.
They feature Wirtgen's proprietary Level Pro Plus levelling system designed to make operation easier and improve milling performance. This is accessed by a new high-resolution display.
The milling drum is part of a new generation designed to minimise wear and increase the drum life by up to 75%.
Wirtgen has also introduced the spreader pack (S-Pack) for its WR240, WR240i and WR250 milling machines. This option is designed to allow binders to be spread without creating clouds of dust, by placing the binder straight in front of the rotor so it is mixed immediately.
Vögele's Super 1600-3i and Super 1603-3i asphalt pavers have been added. These are compact machines for paving widths up to 7.5m on the tracked model and 7m on the wheeled variant.
They include many of the features from the company's larger pavers, such as the Eco Plus fuel and emissions reduction system, comprising a splitter gearbox that disengages paving functions after a minute of idle time, and a variable speed fan, among other components.
The paver also has Vögele's Pave Dock system on board to cushion jolts when asphalt trucks back up to it to deliver material, and there is also the Pave Dock Assistant system of lights to help communicate with the feeder vehicle.
The operator handles all machine functions through the Ergo Plus 3 operating system, and one aspect of this is the Auto Set button, which takes care of the numerous operations to prepare the paver for either transportation or paving at the push of a single button.
Vögele's new Super 1800-3i SprayJet has also been introduced. The spray module is configured as a standalone functional unit, which the company said made the Super 1800-3i SprayJet easy to maintain and also able to be used as both a spray paver and a conventional asphalt paver. The maximum spray width is 6m, but as a conventional asphalt paver without spray functionality the pave width can be as much as 9m.
It features Ergo Plus 3, AutoSet Plus and PaveDock, and Vögele claimed was the world's only spray paver for the paving of thin overlays as well as conventional binder and surface courses.
Redesigned frame
US manufacturer GOMACO has claimed improvements to its Commander III multi-application slipform paver.
It said the next generation Commander III's new design was all about vision, safety and performance, and was driven by the new GOMACO G+ control system and the new Tier 4 engines.
It features a redesigned frame and operator's platform with a new pivoting operator's control console. The frame has been rebuilt to accommodate Tier 4 engines and their cooling packages. The placement of the engine in the framework is reversed to provide increased operator visibility and the redesigned engine shroud is said to offer easy access to service and fill points.
The company said the pivoting operator's console allowed the operator to have hands-on control and ultimate visibility no matter what application is being slipformed or what the direction of travel.
For the first time ever, the Commander III will be available with an optional on-board camera as a new device to monitor designated areas of the slipforming process. The camera can be positioned anywhere around the paver and feeds live to the G+ display on the console.
The next generation Commander III is designed for operator comfort, said GOMACO. The operator's platform is now isolated to eliminate vibration. It is also quieter to work on the platform or around the machine.
The Commander III has a new optimised cooling package with the hydraulic fan controlled by G+ to adapt cooling needs to job-site conditions for both a quiet and efficient operation. It claims improved fuel efficiency with a power-optimised engine and load-sensed hydraulic circuits.
The next generation Commander III has the new GBox on every leg to accommodate improved steering and grade with G+ controls – part of GOMACO's electronic and hydraulic initiative. The GBox features a new location for the slave controller and proportional valves, reduces hose and wiring needs, eases serviceability and troubleshooting, and provides easy access with a horizontal swing door at ground level.
GOMACO said G+ controls made all of these advances possible on the next generation Commander III, including hydraulic fan speed control, pivoting operating console, the electronic and hydraulic initiative and more. G+ controls will also accommodate telematics for remote engine and machine monitoring, and interfaces with 3D guidance systems.
New series
Another US company, Asphalt Drum Mixers (ADM), is offering its EX Series asphalt plants with single-drum counterflow technology. The plants are said to offer high efficiency and a compact design for contractors with low to medium production needs.
The company said the EX Series asphalt plants produced 90 to 385 tonnes per hour at a very low cost per tonne. It claimed they had the longest aggregate drying and mixing times in the industry, and were capable of processing high percentages of RAP (reclaimed asphalt pavement).
Using counterflow technology, the EX Series has separate drying and mixing zones designed to achieve the maximum level of heat transfer and fuel efficiency. ADM added that this system virtually eliminated unsafe hydrocarbon emissions – a common problem with other drum mix plants. To make the plants even more environmentally friendly, ADM has designed the system to reintroduce residual gases back to the drum's combustion zone.
The plants are available in portable or stationary versions, and ADM said that plant controls were sophisticated in their abilities, yet simple in operation. The EX Series can be operated by just one plant operator and one loader operator. Additionally, the plants are built with durability and low maintenance in mind, so on-site staff are able to handle most breakdown issues.
Irock has introduced its RDS-15 Horizontal Impact Crushing Plant, which it said could process a variety of products, particularly smaller materials such as RAP.
Powered by a 350-horsepower Caterpillar C-9 ACERT Tier 3 engine, the unit can process up to 350 tonnes per hour.
In the UK, a specialist mobility kerb that has been installed across South Yorkshire is said to have proved so successful that manufacturer Brett Landscaping has added the product to its standard paving catalogue, making it available to national developers and local authorities.
It said the kerb, which features an upstand of 30mm between carriageway and footpath, provided adequate channel drainage, and also aided mobility for wheelchair users and pushchairs, while a protruding lug at the rear of the kerb helped to hold it in place. It added that this subsequently provided greater stability throughout the kerb's lifetime.
Jamie Gledhill, northern specification manager at Brett Landscaping, said, "We felt that introducing a nib at the rear of the kerbstone would be a progressive development – one which would be beneficial, not only to aid level setting, but actually increase the longevity of the
stones, as a more stable installation is far less likely to be affected by potential vehicular impact."