Robotic lift launch from nLink
By Euan Youdale28 March 2022
Robotics specialist nLink has launched a robotic aerial lift that is combined with artificial inteligence that will initially be used for high pressure washing applications. Based on a Genie S-80 J boom lift, provided by MEWP distributor Hybeko, the Robolift can be used without an operator.
The Robolift project was started by the Norway-based IA program and nLink in 2020, together with Norwegian association for the painting and surface cleaning industry Malermesternes Landsforening (MLF), and Hybeko, which shared technical information about the lift, allowing nLink to fit the design to the required tasks.
The initial idea behind the project goes back to 2016, when nLink launched drilling robot Drilly. According to nLink the Robolift concept then began out of a need to streamline work tasks and reduce injuries in the construction industry and in maintenance projects, like cleaning at height and painting applications. 
Gudmund Engen, one of the machine's designers said, "There are fall injuries from heights, wear and tear injuries and accidents with machines. Craftsmen often have demanding work positions, difficult access and at times heavy, monotonous work tasks."
Over the last five years Hybeko has also focused on developing specially adapted lifts for rock protection and installation work in tunnels, as well as explosion-proof units built in accordance with the Atex directive.
"We want to continue to focus on further developing lifts to perform more special work tasks where increased HSE and efficiency is a requirement, and there is definitely a market for that," said Pål Tveitan, product developer at Hybeko.
"It is very exciting to be part of. Before we delivered standard lifts, now we are in the process of developing another special product that we can bring to the global lift market. It is fantastic that it is possible to add new technology to a lift that makes it smarter," Tveitan added.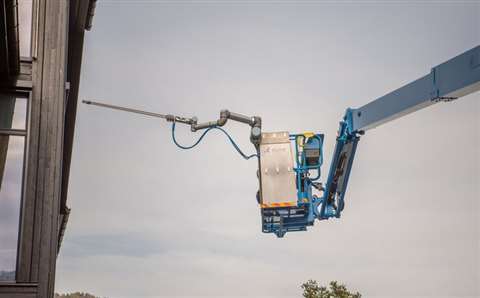 Project developments 
The first phase of the project, which was completed in the autumn of 2021, showed that it was possible to build a robot that performs facade cleaning. Based on the boom lift, a robot arm was developed to hold a high-pressure washer. The arm is programmed to perform the washing movements.
The Robolift has also demonstrated that there are several possible areas of application, using other tools, which just require a software update by nLink. "We are now looking at possible areas such as inspection of facades, bridges and ship hulls, sand washing, sandblasting and painting," explained Tomas Henninge, project manager and co-founder of nLink.
"We are in the process of phase two of the project, where we will find out where RoboLift makes the best use of itself - also in the customers' value chains and workflow."
Funds have been allocated for phase two, which includes market analysis and technology adaptations. This is what Engen calls an intermediate phase, where the company will establish the areas of greatest potential for the product.
Engen adds, "Not only can the robot streamline work tasks and reduce costs due to injuries and sick leave, it ensures increased safety in the workplace and better working conditions. This also applies to protection against chemicals, as the craftsmen can stand at a distance and control the robot, says Engen, who believes that the robot can have many benefits for companies that perform heavy, physical work at height."