Robust results for JLG
By Lindsey Anderson01 August 2019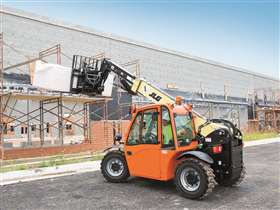 JLG has reported a strong first nine months of the year with total revenues 13 percent higher at $3.06 billion. The increase comes from a 42.6 percent surge in telehandler sales to $947.9 million. However, looking at aerial work platforms, the company saw just over 1 percent growth at $1.46 billion. Used equipment and replacement parts experienced a 10 percent increase to $649.9 million, and operating profits overall were up 45 percent to $376.1 million. The company said sales grew in all regions except EAME.
Looking at the third quarter alone, access equipment segment net sales increased 7.7 percent to $1.25 billion. The growth in sales was due to increased sales volume and higher pricing in response to increased material costs, the company said. Access equipment segment operating income in the third quarter of fiscal 2019 increased 27.2 percent to $189.9 million, or 15.2 percent of sales, compared to $149.3 million, or 12.9 percent of sales, in the third quarter of fiscal 2018. The increase in operating income was primarily due to the impact of higher sales volume, favorable manufacturing efficiencies, improved price/cost dynamics and the absence of restructuring-related expenses.
"Our strong fiscal third quarter performance resulted from increased sales in each of our business segments as well as double-digit growth in operating income in our access equipment and fire and emergency segments," said Wilson R. Jones, president and chief executive officer of Oshkosh Corporation. "I'm proud of the hard work and efforts of our team members as they continue to drive higher performance by executing our business strategy and initiatives.
As of June 30, access equipment backlog was at $854.8 million, 30 percent less than the same period last year.
JLG's parent company, Oshkosh, reported a 9 percent increase in revenues for the nine months to $6.19 billion, with a pre-tax profit of $588.8 million a 45.5 percent increase.