Roll Group completes at Elba Island
By Alex Dahm12 February 2019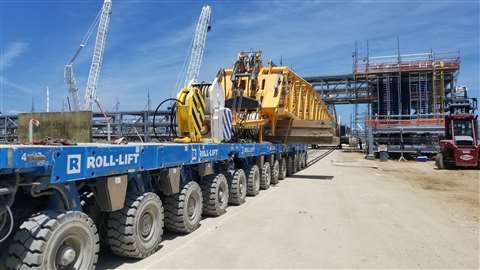 Heavy lifting and transport specialist Roll-Lift USA has completed its activities on Elba Island in the US state of Georgia. Having worked there for more than two years the last pieces of equipment were removed in mid-January.
Roll-Lift employed a team of people and a large fleet of equipment on a project (in total worth US$2 billion) to expand the LNG plant in Savannah. The company said it overcame many obstacles to safely and successfully execute all its activities. Robert Jackson, Roll-Lift USA overall project supervisor, said at the pak of the project the company had a team of 35 people working on site.
First of the project's challenges was the low weight limit and deterioration of the only bridge to the island. It posed a huge problem, Roll-Lift said, for the delivery of 9,300 poles and 71 process and pipe rack modules. Instead the modules were brought in on 25 barges from the fabrication site 16 km away along the Savannah River.
The modules were carried onto and off the barges on 68 axle lines of self propelled modular transporter (SPMT) and 72 lines of modular trailer. Commenting on this part of the operation Brent Brown, Roll-Lift transport supervisor, said, "The barges were a challenge but we managed without delay. It gave us a lot of praise from the clients and the other contractors who were working on Elba Island.''
Poor ground conditions at the roll-off site was another challenge. To bridge this area Roll-Lift designed some 26 metre long ramps that could take the full load. Gary Lyons, crane supervisor, explained, "The ground was terrible, which made it not easy to make the many necessary movements with the cranes. This also required a lot of co-ordination, since space was often tight. But I really enjoyed it, because it was such a big project. Not with extreme heavy cargo involved, but it was the quantity that made it special. We have lifted 840 modules, utilising seven of Roll-Lift USA's heavy lift crawler cranes. No less than 540 modules were heavier than 25 tonnes and then it becomes critical and requires a lifting plan for every lift.''