Romanian facility for Himoinsa
By Sandy Guthrie31 October 2017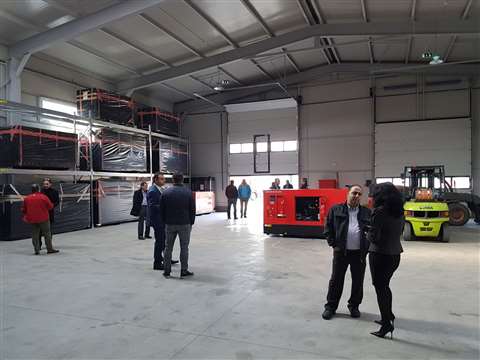 A new logistics warehouse in Romania has been opened by Spanish lighting tower and generator manufacturer Himoinsa, together with its distributor in the country, All Generating.
The facility of over 1,500m2 is expected to cut genset delivery times to the distribution network in neighbouring countries.
The warehouse is in Ilfov, Bucharest. Himoinsa said this was a strategic geographical location, making it possible to serve markets such as Romania, Serbia, Bulgaria, Albania, Slovakia, Moldova and Croatia.
This new facility has a large generator storage area, meaning that the company can cut delivery times and offer a fast local service, and a spare parts distribution point.
Guillermo Elum, EMEA region director, said the facility would offer lighting towers and generators with a wide power range – primarily 20 to 500kVA, as these models were the most popular in the region.
Cătălin Stanciulescu, commercial director of All Generating, said, "We intend to expand our maintenance services nationwide, and the new deposit offers exactly the support we need."
He added that if market evolution was positive, it was considering increasing stock value from €500,000 by the end of this year to €1 million in 2018.
Himoinsa opened a subsidiary in Poland in 2004, from which it directly serves markets in Lithuania, Estonia, Latvia, Belarus and Ukraine.
It said that the market for electrical generators in Romania was estimated at €20 million, with the equipment being used predominantly in sectors such as construction, health, public administration, retail, mining, communication, tourism, agriculture, and IT&C (information technology and communication).
Himoinsa has been present on the Romanian market since 2010.
The opening of the new premises was attended by Himoinsa distributors including Banatika from Romania, ENEL PS from Serbia, EI Energockom from Croatia, Global Energy from Georgia, and Habsev from Moldova, among others.