Rough terrain market to see rebound
By Hannah Sundermeyer03 August 2021
Hannah Sundermeyer compiles the latest rough terrain models to hit the North American market.
Following the disruption of the crane market due to the Covid-19 pandemic, the industry is slowly but surely starting to see a comeback in many areas of the market. But for the rough terrain crane class, there was an oversupply of units that were dumped in the market by the oil and gas industry. Scores of these cranes still sit in rental fleets, waiting to be put to work.
"The rough terrain market has slowed down over the past few years, especially for smaller capacity RTs, but it's coming back," said Luke Lonergan, CEO and vice president, Empire Crane.
A bright spot is the 100-ton RT market. Lonergan said demand for this class has been huge.
"We have multiple in our rental fleet including two Tadano GR1000XLL-4s, and they've been out on jobs 95 percent of the time," he said.
In comparison to last year, Lonergan said that utilization is up 50 percent for the RTs in the Empire fleet.
"We're hoping that there's more work opportunities for RTs, large and small, as we go through the remainder of the year," Lonergan said.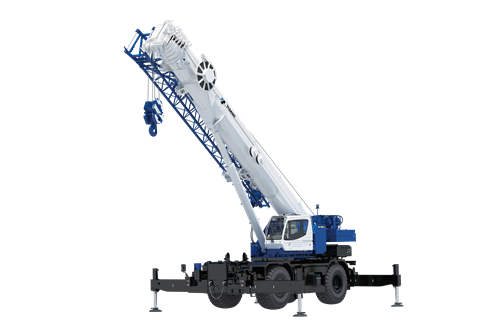 With owners hoping for a RT market surge, ACT has compiled information on the latest rough terrain models from North American manufacturers.
Tadano GR-1300XL-4
Tadano's rough terrain cranes are known for their reliable performance, high maneuverability and paramount safety, according to Tadano. The GR-1300XL-4 continues this legacy and expands Tadano's rough terrain offerings into the 130-ton weight class, equipping even more customers with a versatile machine featuring a long boom concept and compact design that can thrive in the harshest conditions.
The GR-1300XL-4 is redefining the rough terrain crane market, Tadano said, and its six-section boom can extend up to 183.7 feet using a telescoping pinning system, making it the longest boom of RTs in the 130-ton class. Tadano's "Smart Chart" is also on-board, allowing the crane's work performance to be maximized. With a compact carrier length of 28 feet on a two-axle system and a self-removable counterweight, the GR-1300XL-4 can be transported to jobsites easily and efficiently, Tadano said.
Powering the GR-1300XL-4 is a 280 horsepower Cummins B6.7 engine capable of producing a maximum of 280HP. Its transmission has five forward speeds that are complimented by four unique steering modes. The GR-1300XL-4 also comes with 20-degree tiltable cab for improved safety, visibility and comfort, and is controlled by Tadano's AML-E2 system on a large, 10.4-inch multifunction display that is pressure-sensitive to handle gloved operation.
Designed with safety as its highest priority, the GR-1300XL-4 is equipped with the Tadano View System, a three-camera network that offers right front, rear view and blind spot views to assist with safe crane operation and driving. The GR-1300XL-4 also includes Tadano's Clearance Sonar system that integrates four proximity sensors into the rear fender of the crane to audibly and visually alert the operator of any obstacles behind, while also serving as a blind spot warning system.
Link-Belt 120|RT
The Link-Belt 120|RT delivers outstanding reach with a six-section 38.3 to 164.1-foot pin and latch formed boom, built to Link-Belt's specific boom profile and tolerances at its Lexington, KY facility. An available two-piece 35 to 58-foot on-board offsettable fly provides greater flexibility and range, and manually offsets at 0, 15, 30 and 45 degrees. One person fly erection technology minimizes work at height with ground controls for fly assist and boom hoist cylinders. Two 16-foot lattice insert extensions provide a maximum tip height of 261.7 feet.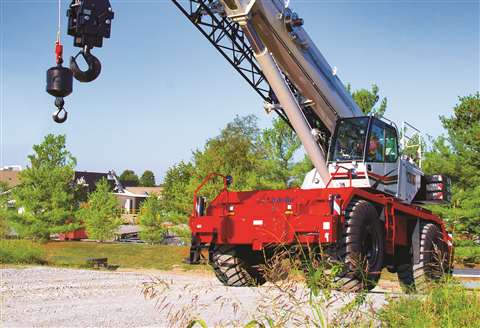 The 120|RT's six-speed transmission is powered by a dual compliant Cummins Stage V/Tier IV QSB 6.7L 232 hp, and also available is a Cummins Tier III QSB 6.7L 240 hp diesel engine. Four 29.5-by-25 tires mounted on axles affixed to the carrier via greaseless 4-link suspension, eliminating ten previous grease points.
Link-Belt's V-CALC (Variable Confined Area Lifting Capacities) system features 81 different outrigger configurations with real time 360-degree charts. V-CALC has proven itself in general construction and infrastructure applications on the 75|RT. Once outriggers are set, the user-friendly Pulse 2.0 system indicates the crane's available capacity. The system then previews the operator's real time capacities given the crane's current configuration at the next five radiuses for a set boom angle.
Upon selection, Link-Belt Pulse 2.0 provides a live view of the working area with color-coded quadrants. If the chart exceeds capacity at a given slew angle, swing arrest will initiate five degrees prior – allowing the crane to come to a smooth stop.
High strength steel used in the upper frame accommodates a new winch design with ultra-wide drums for increased line pull at higher working layers. Maximum winch line pull of 23,632 pounds provides a wider range of applications and contractor needs. Hydraulic outboard routings and wiring harness improvements offer form-fitted design, providing greater serviceability over the life of the crane. Three slabs of hydraulically removable upper counterweight totaling 28,800 pounds is standard equipment.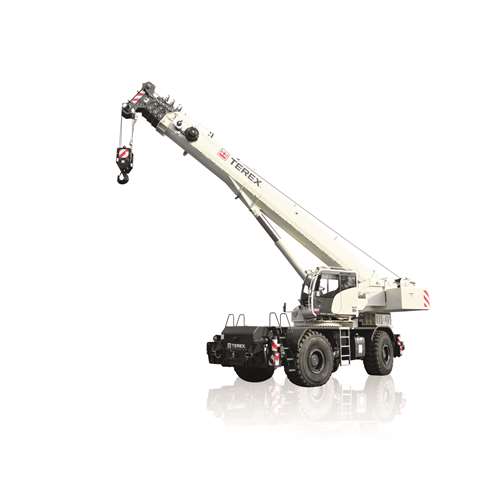 Terex TRT 80US
Terex has launched the TRT 80US rough terrain crane, incorporating the new TEOS operating system and proportional boom mode. The 88-ton capacity TRT 80US features a 138-foot maximum boom length with three boom telescoping modes and an optional 26 to 49-foot bi-fold jib. As desired, the operator can customize the buttons and fine-tune the responsiveness of all crane movements – smoother or prompt reaction – to meet personal preferences.
The Cummins QSB6.7 Tier 4 Final/Stage V 6-cylinder engine delivers high-performance speed and hoisting capabilities. The new anti-stall control precisely controls power and speed to prevent engine shutdown. EcoMode employs automatic engine throttle to optimize power during crane operation and stand-by to lower fuel consumption.
The new Terex Operating System (TEOS) offers improved information flow and accessibility to increase operating efficiency. The new user interface with wide 10-inch full-color touch screen display features self-explanatory and intuitive icons. The primary and most frequently used functions are immediately accessible, and intuitive controls ensure a short learning curve for new crane operators. Error messages and warnings are within easy view for enhanced safety. A dedicated menu for diagnostics gives immediate feedback on crane, main component and sensor operating status.
The T-Link telematics platform allows remote access of crane fleet operating data anytime, anywhere via the internet from a computer, smartphone or tablet. Remote monitoring delivers critical vehicle operating data and statistics. Routine maintenance can be scheduled more efficiently, and unexpected issues are quickly addressed. Using the Geofence function, each crane's position is monitored, and the owner is notified in the event the crane leaves its set boundary.
Grove GRT8120/GRT9165
The current range of Manitowoc GRT rough terrain cranes offer greater reliability, longer booms with strong capacities, enhanced operator comfort and improved efficiency, the company said.
"We have redesigned and re-engineered our rough-terrain cranes from the ground up to be more capable and reliable," said John Bair, product manager, rough-terrain cranes, Grove. "Our work at the Product Verification Center (PVC) has enabled us to ensure every component on a GRT crane is of the utmost, industry-leading quality. We're confident enough in these products that we now offer a standard two-year warranty on new GRTs with up to five years of total coverage."
The Grove GRT8120 is the latest in the GRT line of rough-terrain cranes that have grown in popularity due to their reliability and versatility on jobsites. The GRT8120 features the longest boom and strongest load charts in its class, along with a new compact carrier design with flat decking for improved maneuverability, serviceability and job site access. Combined, these features make the crane ideal for work in the petrochemical, construction and utilities industries, among others.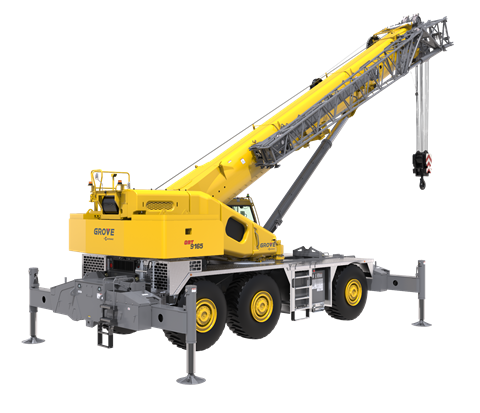 "Many of our customers wanted to fill a void in the 120-ton class, and also increase their crane utilization with easier transportability, greater reach and capacity and improved access for serviceability," said Bair. "We were able to accomplish this through an all-new carrier design along with several other new features debuting on this crane. We're happy to say that the 197-foot boom length and strong load charts put this crane at the top of its class."
The Grove GRT9165 offers the longest reach and highest capacity of any model in Grove's rough-terrain lineup, and it has a host of features that will help companies increase efficiency while maintaining a low total cost of ownership. The GRT9165 is a 165-ton capacity crane that features a 205-foot six-section, pinned boom. It has been designed for easy transport, with a compact overall height of 12.4 feet.
The GRT9165 features a hydraulically removable counterweight system and outrigger boxes, both of which are fully self-rigging, which eliminates the need for an assist crane during set-up, saving time and costs. The new three-axle carrier with hydro-gas suspension on the rear axles provides the ability to adjust the height for transportation, in addition to providing a comfortable ride.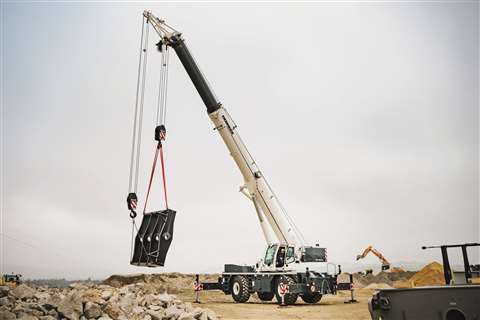 The GRT9165 also boasts Grove's new, wider, full-vision cab with Crane Control System for maximum operator comfort and intuitive and efficient operation.
Liebherr LR1100-2.1/LR1090-2.1
The 110-ton Liebherr LRT 1100-2.1 has a 164-foot pinning telescopic boom with the "Telematik" telescoping system on which the various telescoping sections can be extended independently with a single cylinder and then pinned to the telescopic section above. The telescoping system on the new rough-terrain crane is particularly simple and user-friendly and has excellent lifting capacities over the entire radius range. This can be achieved with just two telescoping modes, Strong or Long.
The 100-ton LRT 1090-2.1 features a powered 154-foot telescopic boom. Its telescoping system consists of a two-stage hydraulic cylinder with a rope extension mechanism. Like the 110-ton model, the boom can be extended easily with two telescoping modes, Strong or Long. The extension mechanism on both crane models has been designed for high telescoping lifting capacities.
The VarioBase variable support base developed by Liebherr is standard on the new LRT cranes makes an important contribution to enhancing safety. VarioBase allows each individual outrigger beam to be extended to arbitrary lengths. The crane work is controlled by the load moment limiter within the LICCON controller which calculates the maximum load capacities precisely for the current situation. This prevents accidents by human error during the assembly process and when hoisting loads. VarioBase also provides greater flexibility on site. As a result of the increased lifting capacities when hoisting over the supports, the crane can hoist loads normally reserved for the next higher crane class.