RTC Group expands into oil-free compressors
By Helen Wright04 February 2015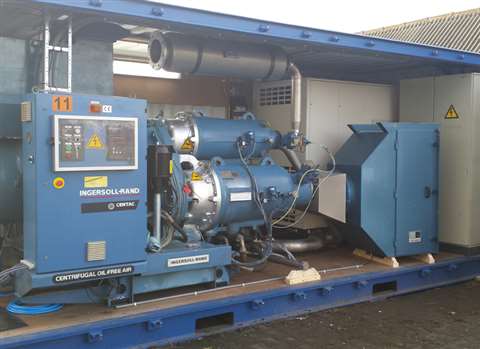 Netherlands-based rental company RTC Group has further expanded into the compressed air market, offering containerised packages for oil-free compressors.
The company, which provides high pressure compressor rentals and rock drilling equipment for the construction and drilling industries, said it had acquired a large-volume oil-free rental machine for the European market.
The containerised package consists of a 530 kW oil-free centrifugal air compressor, refrigerant air dryer and all the necessary auxiliary equipment to start and operate the package on its own.
With a capacity of 4200 m³/hour and a pressure range from 5 up to 11 bar, the company said this machine was unique in the market. It said regular diesel-driven compressors were half the capacity, burning around 15000 litres of diesel fuel per week.
"We are specialised in large centrifugal compressed air rental solutions" said managing director and owner Henk Uphoff.
"Our equipment can be on the move to the customer within hours of the first emergency call."
RTC Group was established in 2013 by Mr Uphoff, the former Ingersoll Rand, Doosan Infracore and Machinery Resale manager.