Rubble Master's 20 years in the US
Rubble Master crushers and screens have been major players in American construction and demolition machinery fleets for 20 years on job sites ranging from Manhattan to Hawaii.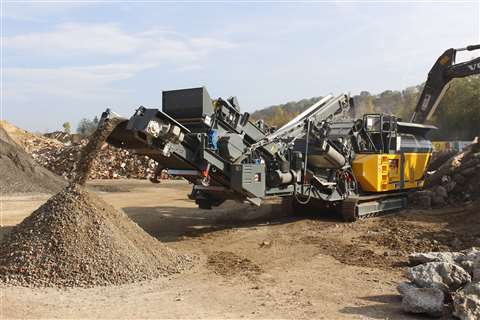 At Conexpo, the Austria-based compact crushing specialist will exhibit the RM 70Go! 2.0 crusher in combination with its RM HS3500M screen, the RM 120Go! with the RM MSC8500M-2D and the RM MTS2010S.
Starting this year, a combination that has been available for the larger compact systems for a while is now offered with the RM 70Go! 2.0. The integrated mesh screen with refeeding belt is now available with the most compact crusher in the series to enable crushing and screening in a single pass.
The additional equipment is transported together with the crusher unit.
Compact dimensions during operation and transport combined with high throughput are the main features, with a transport width of 2.16 m (7 ft 1 in) – even with the mesh screen and refeeding belt installed, this does not change – so no accompanying vehicles or additional special permits are needed.
The mesh screen makes the mobile crusher even more efficient, with precise sorting accuracy and a throughput capacity of up to 132 t/hr is included.
The flagship RM 120Go! crusher has a throughput capacity of up to 385 t/hr and weighs 38 US t.