Runnion Equipment adds Elliott HiReach line to fleet
By Lindsey Anderson30 July 2013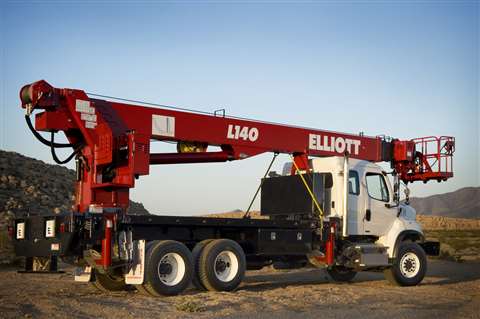 Boom truck rental company Runnion Equipment has added Elliott Equipment Company's line of HiReach aerial work platforms to their fleet in Caledonia, WI.
"We're proud to be a distributor for the HiReach line," said Michael Prochot, president of Runnion. "Their platform equipment is known for its reliability. These machines join our lineup of top quality brands that include National Crane and Palfinger."
The line of HiReach aerial work platforms includes 27 models with working heights ranging from 45 feet to 140 feet and lifting capacities of 500 pounds to 14,000 pounds. "For everything from positioning people to lifting loads, working at heights or digging holes, HiReach aerial work platforms help complete jobs faster, schedule crews more efficiently and maximize equipment utilization," the company said in a statement.
Runnion Equipment has been selling and servicing boom trucks throughout northern Illinois, northwest Indiana and southern Wisconsin since 1975.