Rye takes on former Kodak boiler rooms
Rye Demolition, a contractor operating from the south of England, recently won the two-year contract to oversee the demolition and ground remediation of the former Kodak factory in north-west London.
The famous photographic and technology name's facility opened in the late 19th century and operated for 125 years until it closed in 2016.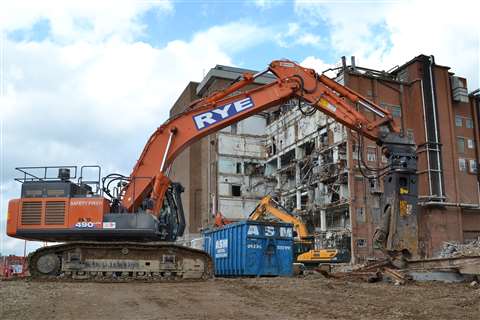 It housed many heavy industrial metal structures and one challenge for Rye demolition is the complexity of cutting up and removing the various redundant turbine and lubrication systems, alternators, control panels and miles and miles of metal flue and piping which remain inside the huge building.
Rye managing director Simon Barlow knew this part of the job needed a tough hydraulic scrap shear and approached attachment specialist ECY Haulmark during this year's Hillhead show.
As distributor for the VTN Europe brand of attachments in the United Kingdom, ECY Haulmark sales manager Steve Parker recommended the CI5000R scrap shear.
The VTN CI-R series has been redesigned and remodelled for heavier weight excavators processing heavy duty metals and structures.
The jaw type and wide mouth opening have been designed for grabbing and cutting all-sizes of materials and thanks to a dedicated speed valve the CI-R shears optimize the cycle times. The new jaw alignment guides together with the fixed jaw fulcrum pin grant for very precise material cutting.
The rotation system, with double bearings in row, allow operators to gain a perfect position of the material to be processed, helped also by the break system inside the swinging motor.
At Kodak, the CI5000-R shear has been dipper mounted onto Rye's Hitachi Zaxis 490LCH excavator. It is a 5 t shear, with a jaw opening and a depth of more than 740 mm (29 in) and a cutting strength of 890 t. ECY said it is suitable for excavators from 30 t upwards and can cut steel surfaces more than 60 mm (almost two and a half inches) thick.