Saan adds Palfinger on Volvo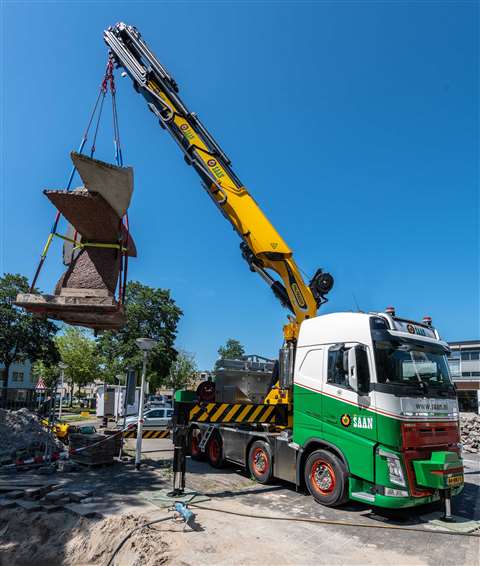 Dutch crane and transport specialist Koninklijke Saan boosted its fleet with the addition of a Volvo FH 500 10 x 4 box tractor unit fitted with a 165 tonne-metre Palfinger truck-mounted crane.
The truck can be used as a box truck and as a tractor. It will be used for a wide range of projects, said Mark van Klaarbergen, Koninklijke Saan technical service manager, "This can involve hoisting work in the construction, transport of machines and construction, but also moving sensitive equipment or art objects."
The 500 hp truck has two 9 tonne front axles with air suspension and 10 tonne hydraulically steered trailing axle. Also specified was an I-Shift gearbox, Volvo Dynamic Steering and the Work Remote wireless remote control. Its front Frame Extension allows fitment of an outrigger for full 360 degree lifting. The crane was a Palfinger PK 165.002 TEC7 with PJ240 jib and an MFA fly jib.
Requirements set out by Saan included a maximum length of 10 metres and for the gross vehicle weight (GVW) not to exceed 45 tonnes. The configuration was established by looking for the optimum ratio between the lifting capacity of the crane, the reach of the crane, the length of the truck chassis and the GVW.
Van Klaarbergen explained, "With these specifications, we can enter Amsterdam with this vehicle without having to apply for a 45 tonne exemption. We can, therefore, always respond quickly to customer demand. With crane rental in the construction industry in particular, we regularly have to anticipate orders that arrive last-minute. Furthermore, it is necessary for the truck to be strong and stable enough for a 165 tonne-metre crane, which is the heaviest Palfinger loader crane that can still be folded behind the cab. This leaves room for a fifth wheel or for carrying cargo in the removable container."
Volvo delivered the chassis straight from the factory, van Klaarbergen said, which shortens delivery time and cuts costs.