Sáez adds luffing jib towers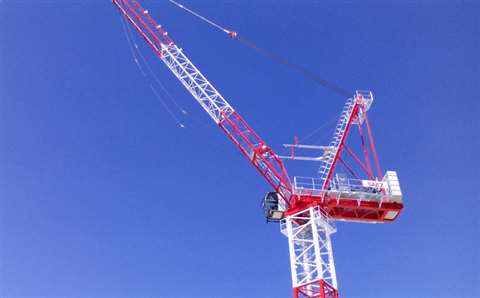 Spanish tower crane manufacturer Sáez has launched the first unit in a range of luffing jib models. With its maximum 60 metre jib the SL 240 lifts 12 tonnes out to 21 metres and with a 30 m jib it lifts 16 tonnes to 17.4 m radius, preliminary charts show. Capacity at the end of the 60 m jib is given as 2 tonnes on two falls of rope. Tail swing radius is shown as 7.8 m and, with the 60 m boom at 85 degrees, the minimum radius at the front is shown as 6.4 m.
The complete slewing unit is 4.6 x 4.8 x 3.3 metres and weighs 13.5 tonnes. Mast sections are 2.3 x 2.3 m. It can be configured for either internal or external climbing.
Sáez is already working on larger models, including an SL 280, SL 465 and SL 710. In a couple of years there should be a complete range, said Juan Ballester, responsible for sales.
Look out in International Cranes and Specialized Transport magazine and at www.khl.com for more information as it becomes available.