Sandiefield flats fall to Coleman
By Lindsay Gale30 July 2013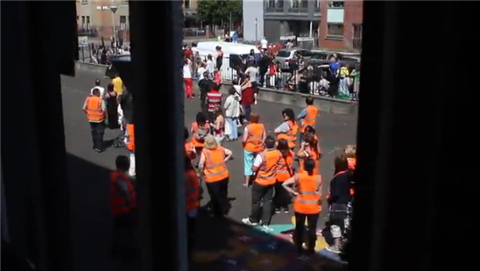 On 21 July 2013, Coleman & Co successfully imploded two high rise blocks of flats in the Scottish city of Glasgow in the Gorbals district of Glasgow. The demolition was part of the £100 million (US$154 million) Crown Street regeneration project that will see the construction of a new health centre, social housing and office accommodation,
The blocks of flats on Sandiefield Road were built in 1971, were 69 m (226 ft) tall and contained 394 individual flats. The project was commissioned by New Gorbals Housing Association and managed by Coleman & Co, who came on site in February 2013. Detailed planning for the blowdown required careful coordination with a number of bodies, including the Housing Association, Glasgow Police and City Council, the UK Highways Agency, Network Rail and the local community.
According to Russell Crammond, Coleman's community liaison officer: "For most people, seeing buildings that have stood in their community for a long time come down is a big change. To help keep people informed and ensure their views have been heard, we have engaged with the local community every step of the way on the Sandiefield Road project, and the response we've had has been really positive.
"Explosive demolition projects require meticulous and detailed planning and we have engaged with local police teams, the Council, and Network Rail since February to ensure that the project runs as smoothly as possible. We arranged a rest centre at Blackfriars Primary School offering residents refreshments and entertainment while the blowdown was in progress, and we also will be making the area ready for the new build afterwards."