Santiago Airport expansion begins
By Thomas Allen19 September 2017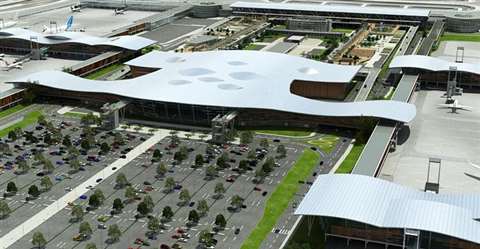 Construction work has started on the new international terminal at Santiago Airport, Chile.
At the groundbreaking ceremony, Chile's Public Works Minister Alberto Undurraga laid the first foundation stone. He said, "To fulfil our goal of making Santiago Airport the best one in South America, we need a new international terminal."
As a key part of the overall modernisation and expansion of the airport – which will have an estimated cost of US$700 million – the new international terminal will increase the airport's total capacity to 30 million people per year by 2020.
The airport will be divided into two halves, with the original terminal dedicated to domestic flights and the new terminal servicing international flights.
With the addition of the new international terminal, the number of boarding gates in the airport will be increased from 18 to 67, making space for future air traffic growth.
There will also be 70 new self-check-in kiosks, 23 elevators, 19 escalators and 67 moving walkways, to make access easier, while the airport's parking capacity will grow from 3,785 to 7,167 vehicles.
Preliminary works around the existing terminal began in November 2016, carried out by the Nuevo Pudahuel consortium, made up of Vinci Airports, Aéroports de Paris and Astaldi, which is responsible for the conception and construction of the project.
With the new terminal set to cover an area of 170,000m2 and the existing terminal due to be expanded from 110,000 to 119,000m2, Santiago Airport will cover a total area of 294,000m2 once completed.