Sarens Dismantles ADC-101 Reactor at PEMEX Plant in Mexico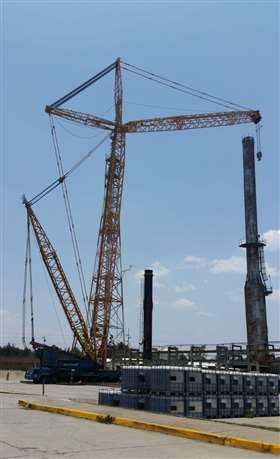 Working on behalf of client Macoisa and owner PEMEX, Sarens recently dismantled Complejo Petroquímico Independencia plant in Puebla, Mexico which included a massive ADC-101 reactor.
For this operation, timing was crucial because the plant had a strict date by which any dismantled equipment had to be removed. Sarens had to adhere to a carefully-planned timeline in order to dismantle the plant and successfully complete the project, which took place from May 17 through June 30, 2019.
The crew used two LTM-1100 cranes, an LR-1300, and an LG-1550. The LG-1550 (SLDB 63m CW 160T SLCW 180T) was chosen for its great capacity at height, and was both faster than the client expected and easier to move from place to place.
The equipment was supplied by the Sarens base in Hidalgo, and took three to four days to reach the project site. Transporting the LG-1550 required 24 platform trailers. The two LTM-1100 cranes worked to lift smaller loads on site and to assemble and disassemble the LR-1300 and LG-1550.
Once the equipment was rigged and ready, the crew had to work efficiently within a small space, as nine crew members completed 14 Heavy Lift picks and more than 40 smaller picks within 30 days. They lifted and dismantled the plant incluiding reactor's petrochemical distillator and burners, which weighed 118 tonnes and measured 50m in length and 13m in diameter. The crew lifted each load with the LG-1550 and then grabbed between the LG-1550 and the LR-1300. The LR-1300 then crawled into final position for unloading.
Project Manager Ricardo Nieto says, "They were able to save a lot of money, and recognized all the help and support we provided at all time. The entire Sarens team did an extraordinary job!"
Sarens would like to congratulate everyone involved in this project for a job well done! We would also like to extend our appreciation to our client for trusting in us and our vision: Nothing too Heavy, Nothing too High.